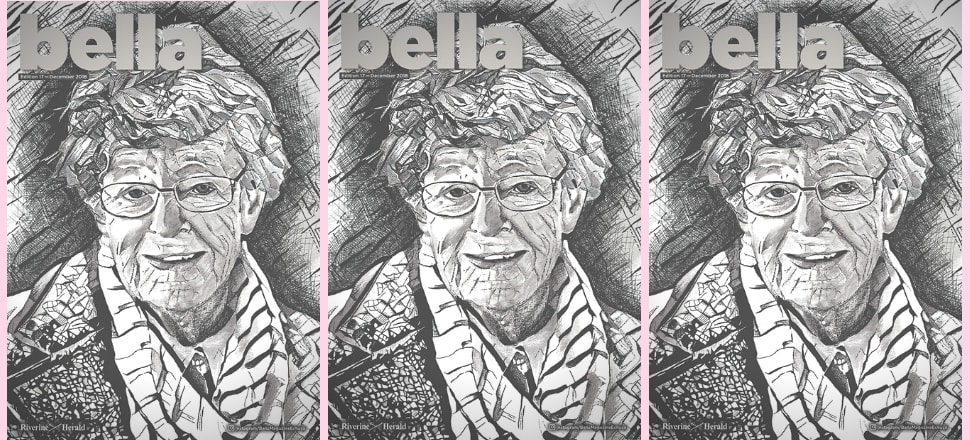 5370537724001
For nigh on 60 years Helen Coulson has walked tall in Echuca-Moama. She has given most of her life in service to the twin towns and their community, championed its causes, rescued its history and helped put it on the map. Now she has turned 100 and she is genuinely bemused people think all that is worth celebrating
HISTORIAN AND AUTHOR; teacher, educator and mentor; wife and mother; honoured Australian citizen and matriarch of the twin towns.
Or simply put, living legend.
In 2016 Helen Carlyle Coulson (nee Duncan) received a Medal of the Order of Australia and a letter of congratulations from Her Majesty, Queen Elizabeth II.
On December 8 in 2018 she qualified for a second letter from Buckingham Palace.
In recognition of her 100th birthday.
A birthday, and day, Helen insists are nothing, and certainly nothing she had anything to do with.
As is the right of such a senior citizen she is entitled to get a little despairing of all the attention — she neither invited it nor enjoys it.
But there is still a sparkle in her eyes when she concedes it is very humbling to have so many people interested in what she is doing.
"In that context I suppose I am quite chuffed, but really, I would be happy to just consider it another day," Helen said.
"There was a morning tea organised at Echuca library and it was quite something to know people would give up their time, go out of their way, just to say happy birthday to me," she said.
Helen doesn't get around as well as she used to; relying on her walking frame to move from room to room, but she still lives in her home and maintains her privacy and independence.
Although for most of the past 100 years she has been the least private of people.
Rather she has been a community rallying cry, one of those salt-of-the-earth doers.
Where Helen Coulson truly stands apart in the twin towns is what she was able to achieve here for the tourism industry, for the historical society and for generations of locals is without parallel.
Not that she would ever suggest she did much at all.
Last month in her kitchen she admitted to some maudlin thoughts about another centenary — the end of World War I. The Great War.
About which Helen can find nothing great.
Just as she was appalled a second world war followed, and there have been so many other wars since.
"I had a great uncle in the first war, a brother in the second," Helen recalled.
"I remember my mother telling me her mother always used to say 'what is the world coming to?'
"I think the question is as relevant today as it was back then."
But she quickly shook off those thoughts and focused on what she said she could only describe as "not a bad life thus far".
Clearly Helen loves an understatement.
A graduate from the exclusive Fintona Girls Grammar in Camberwell Helen was born less than a month after World War I ended and married less than a year after World War II finished.
She would work in local government and for politicians before moving to Echuca in 1959 little realising she would become pivotal in its history.
And as far as history goes she wasted no time in making her mark — the very next year she was a founding member of Echuca Historical Society and was its first secretary.
For the next 20 years.
In partnership with others she was instrumental in getting the PS Adelaide as they key to the Echuca fleet.
That the wharf is still standing is in no small way thanks to Helen.
And while she could only manage 20 years as EHS secretary she dedicated 50 years in its service and has been made a life member.
The author of numerous books, about the Dandenongs, Horsham and a swag of Echuca/Murray River stories.
Helen was co-opted as a teacher at Echuca Technical College, imparting her vast local knowledge to students for 11 years and then in 1971 found herself back in the foundation business, this time the Port of Echuca Restoration Advisory Committee.
Longtime friend and admirer Dot Hammond, current president of Echuca Historical Society, said the veteran campaigner had an incredible list of firsts next to her name.
"Just look at the things she has done," Dot said.
"Inaugural member of the Friends of Echuca Library, inaugural committee member and secretary of the Australian National Maritime Museum in Sydney; inaugural member of the Friends of Old Moama (a role in which her work was fundamental in saving the old telegraph station, Maiden's Punt crossing and Chanter St); inaugural member of the Long Paddock Touring Route project," she said.
"It got to the point where if you could not get Helen as a founder or inaugural member you were in trouble."
But Helen really came into her own in 1982 when, in her role as Port of Echuca manager, she shone the light of her countenance upon Crawford Productions, helping them with the hit series All The Rivers Run, which would spark an amazing tourism revival in the twin towns.
"Find me another Helen Coulson and I will go he," Dot added.
Teasing a few words from Helen about that staggering track record is about as easy as getting her to throw her own birthday party.
She is particularly proud of all the books she has written, some going into second and third prints.
"I know it will sound funny but I am rightly proud of the book I did on the Dandenongs but new books are a bit beyond me now," Helen conceded.
"I think to a large degree the digital age has put the kybosh on curiosity, and that's sad," she said.
When it comes to the port she agreed it was perhaps the most noteworthy thing with which she has been involved in her 59 years in town.
"It's a very difficult thing to get right. I think the Discovery Centre might have been bad timing, a static display right when the digital, interactive age took over," she said.
"I am quite impressed with what Swan Hill is doing, and of course Ballarat is spectacular — and I think has been very good at accessing funding and grants."
Helen had also promised to be on her best behaviour at her birthday morning tea.
"I have had a very fulfilling life; I think I have been exceptionally fortunate.
"I have seen so much change, I remember when we were young we didn't have TVs, computers, anything digital. We had the radio and the newspaper.
"Looking back it seemed a much simpler world."
When pressed about the mark she had left on her town Helen said she would be delighted if people considered her a "true believer".
"We do," she said, "need more of them."
There is no question Helen Coulson's legacy is already set in concrete.
Not only has she been a true believer, she has been a guiding light in whom people believed.
Does it get any better than that?