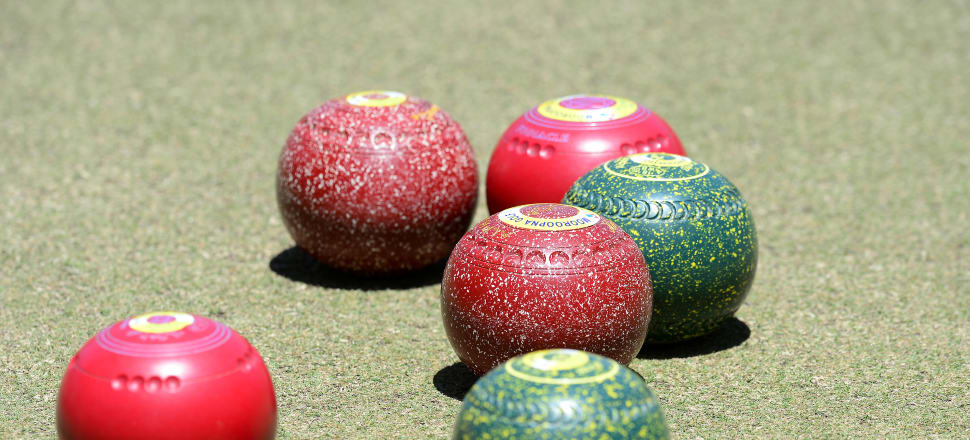 5370537724001
Lockington
THE popular game of scrounge is beginning to become a weekly turnout for the seasoned bowlers.
On Wednesday, the cream rose to the top as Ray Hanson displayed fine form to tally 50 points and win the rink against Russell Shawcross on 47 and Phillip Cunnington on 46.
On rink two, the latest club decorated life member Tom Davis was on song to register 47 points for a comfortable victory over Don Smith, 39.
Smith is recovering from a recent nasty fall.
Ann Lowrie delivered all her good bowls to score a healthy 46 points for a rink win against Dingee visitor Norma Thomas, next best on 40 points.
The game of scrounge is played at 1pm on Wednesdays (weather permitting) and all bowlers and non-bowlers are welcome to attend.
Flat-soled shoes are a prerequisite and bowls are available for use.
Names are to be submitted before 12.45pm.
The semi-final of the president's trophy 21-up championship has been decided, with Ian Johnson defeating Don Isgro in a high-standard performance from both bowlers.
Trading ends kept the scores close before Johnson was able to gain a break to win through to the final where he will meet Ray Hanson.
The club will hold the annual general meeting on Monday, June 3 at 8pm.
All are welcome to attend and discuss several important items on the agenda.
Bowling enthusiasts enjoyed some spectacular bowling at the prestigious Moama Bowling Club Geo Lynch Fours held on the weekend.
The event attracted a top field of quality bowlers including several international and state representatives.
The final was played out between two composite teams involving the winner rink of Peter Condon, John McCarron, Peter Loe and Matt Flapper (s) up against the unlucky runners-up team comprising two Moama bowlers, Peter Broom and Jim Hogan, combining with Eric Kosloff and Noel Verlinden (s) from Ballarat.
The final, played over six scoring ends, was a close affair until Flapper drove the head to put the jack in the ditch and pick up four shots, which enabled them to take out the game 6-4.
Mathoura
THE club had its presentation night on Friday, May 17.
This is a night when we come together to acknowledge the bowlers who have won our club championships.
On the night we had 60 people attend this important event, the two-course meal served by our bistro staff would have graced any five-star hotel anywhere you would care to name, congratulations to them all.
Life members in attendance were Arthur and Elaine Murphy, John Hulm, Doug Berryman, Charlie and Coral Phippen and Keith Woodward.
It was the last duty of outgoing president Anthony Hulm to host the night and hand over to new president Stan Limbrick.
Anthony has seen the appointment of a bowls co-ordinator at the club and the increase of our bowling membership, so much so we have more playing for the club than ever before.
He also acted as our delegate to the CVBD and represented our club very well, we wish him good bowling and thank him for a job well done.
The club won the division 4 pennant and this was presented to division 4 manager David Murray by Anthony, a terrific finish to the year for the club.
Championship winners
Men's two-bowl singles: Winner — Mick Humphreys. Runner-up: Rod Werner.
Weekend skipper of the year: Mick Humphreys.
Ladies' 21 up handicap - Jean Hay tray: Winner — Pam Limbrick. Runner-up: Rosa Shea.
Men's 21 up handicap - Les Anderson trophy: Winner — Ian Hunter. Runner-up: Tim Starkey
Ladies' 100 up handicap: Winner — Pam Limbrick. Runner-up: Joan Dovaston.
Men's 100 up - Knox Linderman Trophy: Winner — Rod Werner. Runner-up: Peter Wilson.
Mixed pairs: Winners— Joan and Cec. Moss. Runners-up: Les Bates and Jenny Chalmers.
Ladies pairs - Sinclair family trophy: Winners — Pam Lewis and Virginia Kalsbeek. Runners-up: Marilyn Murphy and Katie McCormick.
Men's pairs - Sinclair family trophy: Winners — Mick Humphreys and Chris Roberts. Runners-up: Joe Murphy and Mick McDonald.
Men's B grade singles - David Keech trophy: Winner — Barry Ireland. Runner-up: Mick Beeche.
Ladies' club singles - Sinclair family trophy: Winner — Joan Moss. Runner-up: Rosa Shea.
Men's club singles - Wilf Hay trophy: Winner — Mark Quor. Runner-up: Al Polak.
Thanks to Coral Phippen and her assistant Charlie for the flower arrangements on the tables and around the room, it all looked very nice.
Thank you to all our presenters, Rocket for being MC for the night and Emma for all her help. There are a lot of people who contribute to these nights to make them memorable for the winners and those who attend, too many to name you all, but many thanks.
Rich RIver
JACKPOT pairs results for Friday, May 17 were:
Two game winners
1st: Eugene Xodo and Geoff Kiefel, 56 points /35 shots up, 2nd: Hugh Davies and Bob Pratt, 55 points/18 shots up, 3rd: Barry Devlin and Max Kosch, 54 points/13 shots up.
Repechage
1st: Bill McEwan and Warwick Stiles, 8 ends won/18 shots up, 2nd: Jerome Shaw and Leon Sharp, 8 ends won/10 shots up, 3rd: Peter Jackson and Laurie Phillips, 6 ends won/1 shot up.
Jackpot Pairs this week returns to Wednesdays at the usual time of 12.30pm.
On Sunday, April 30, Rich River Combined Bowls Club held its annual general meeting at the RRGC in the Tatalia room to elect the committee for the year 2019/20 season.
President Margaret Griffiths welcomed the 66 members in attendance along with RRGC chief executive officer Shane Gloury and board member Peter Godfrey, as well as life members John Hewlett and Barry Kelly.
Those committee members who were retiring, or not seeking re-election, were thanked for their service during the past 12 months or years before that.
Mr Gloury declared all positions vacant and nominations received for the committee were as follows and filled accordingly.
President: Margaret Griffiths — duly elected for a second year.
Vice-president: Robert Holmfield — duly elected for a second year.
Secretary: Toni Beck.
Assistant secretary: Peter Jackson.
Ladies' committee: Lyn Barker, Judy White, Virginia Noar and Pat Sehestedt.
Men's committee: John James, John Exton, John Langley and Leon Sharp.
Ladies' selectors: Judy Vise, Janice Hocken, Liz Easther, Eileen Pineo and Phil Stiles.
Men's selectors: Ron Bentley, Ashley French, Vic Woods and Leon Sharp.
Delegates for CVBD: Margaret Griffiths and Robert Holmfield.
Before the meeting closed, Mr Shane Gloury addressed the members, outlining matters relating to membership, the financial status, long-term planning, priorities and future direction plans, along with fielding some members' questions from the floor about a variety of subjects related to the bowls club.
The focus for the new committee will be towards profiling the club as an all-inclusive family option, attracting new members from both the locally fast developing area of Echuca-Moama, the possibility of more tournaments and social opportunities to attract people with the club facilities available.
Moama RSL
IN ALL, 25 players played three games of 10 ends.
The winners on 46 points were I. Wallis (s), Helen Salter, R. Panozzo and Joan Heales.
Runners-up with 43 points were Margaret Green, Pamela Reymont (s), R. Maxy, R. Stranger and Dawn Beer.
Consolation prizes went to Denise Lee, Lyn Prott, Val Galor and Liz Portwine.
Pennant bowls — Round 1, game 2
Bamawm Extension v Rochester Green — 55/44.
Moama Bowling Club v Moama RSL — 77/48.
Rochester Red - bye
Senior Citizens
LAST week's winners were Val Gaylor (s), Joan Parker, Eddy Williamson and Rhonda Massey.
Runners-up were Bev Williamson (s), Helen Salter and Shirley Davis.
New members are always welcome.