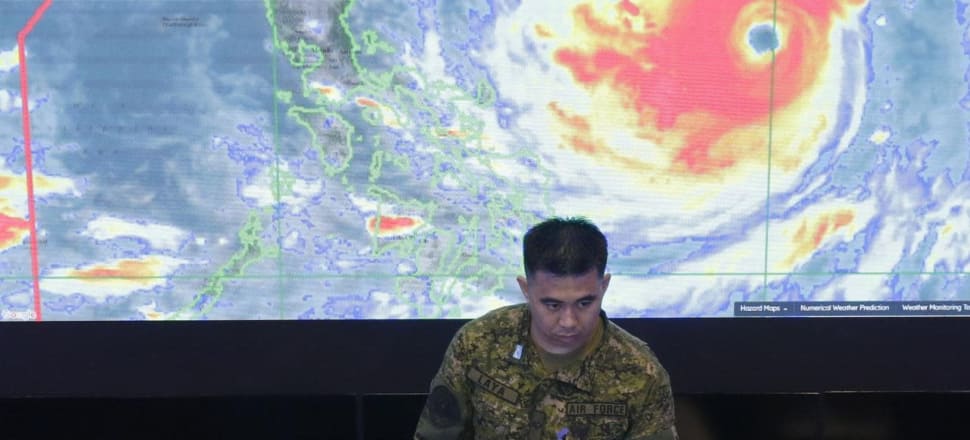 5370537724001
Typhoon Mangkhut has retained its ferocious strength and slightly shifted toward more densely populated coastal provinces as it barrels closer to the northeastern Philippines, where a massive evacuation is underway.
More than four million people are at risk from the storm, which the Hawaii-based Joint Typhoon Warning Centre categorises as a super typhoon with powerful winds and gusts equivalent to a category 5 Atlantic hurricane.
It was initially expected to hit the northern tip of Cagayan province early on Saturday, but it's now likely to make landfall farther south and closer to Isabela province then cut across the northern breadbasket, Philippine state forecaster Chris Perez said.
A huge raincloud band 900km wide, combined with seasonal monsoon rains, means the typhoon will bring heavy to intense rains that could set off landslides and flash floods.
Warnings have been raised in 25 provinces across the main northern island of Luzon, restricting sea and air travel.
The typhoon is approaching at the start of the rice and corn harvesting season in Cagayan, a major agricultural producer, and farmers were scrambling to save what they could of their crops, Cagayan Governor Manuel Mamba said.
Mangkhut had been tracked in the Pacific with sustained winds of 205km/h and gusts of up to 255 km/h, Philippine forecasters said.
After the Philippines, the Hong Kong Observatory predicts Mangkhut will plough into the Chinese mainland early on Monday south of Hong Kong and north of the island province of Hainan.
Though it will weaken from a super typhoon to a severe typhoon, it will still be packing sustained winds of 175 km/h.
The observatory warned of rough seas and frequent heavy squalls, urging residents of the densely populated financial hub to "take suitable precautions and pay close attention to the latest information" on the storm.
On the Chinese mainland, the three southern provinces of Guangdong, Guangxi and Hainan are coordinating preparations, including suspending transport and moving people to shelter inland, the national meteorological agency reported.
Guangdong, China's manufacturing hub, has set up 3777 shelters, while more than 100,000 residents and tourists have been moved to safety or sent home.
The province has recalled more than 36,000 fishing boats to port, while train services between the cities of Zhanjiang and Maoming have been suspended and all ferry services between the Guangdong and Hainan have been put on hold.
Philippine Office of Civil Defence chief Ricardo Jalad on Thursday told an emergency meeting led by President Rodrigo Duterte that about 4.2 million people in Cagayan, Isabela and outlying provinces are vulnerable to the most destructive effects near the typhoon's 125km-wide eye.
Across the north, residents covered glass windows with wooden boards, strengthened houses with rope and braces and moved fishing boats to safety.
Duterte told reporters it was too early to consider seeking foreign aid.
"It would depend on the severity of the crisis," Duterte said. "If it flattens everything, maybe we need to have some help."