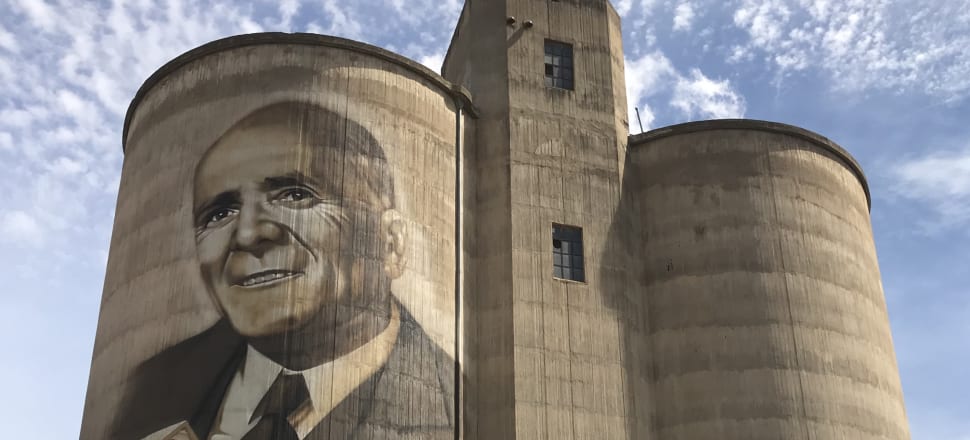 5370537724001
A towering mural of George Coles will soon welcome visitors to St James, with the town now joining the region's growing silo art trail.
The idea to paint the GrainCorp silo has been in the works since November 2017 and is expected to be completed by mid-April. The addition of silo art in the small town of about 90 people creates a trail between Tungamah, St James, Devenish and Goorambat, with each artwork just a few minutes' drive from the next.
All four of St James' GrainCorp silos are set to be painted, with St James Silo Art Committee secretary Kathy Beattie remaining tight-lipped on just exactly what will be featured on the remaining three silos.
''I can tell you it will pay homage to the farming history of the town.''
The silo bunkers at St James were built in 1943, with bushels of wheat originally delivered to the site via horse and cart, as will be depicted in the artworks under way.
Benalla artist Tim Bowtell has already started work on the first piece, a sepia-toned portrait of Coles founder George Coles and the iconic shopfront of his first store which opened in the small town in 1910.
Mrs Beattie said selecting the artwork came about after several public meetings ending with a vote.
The Coles family has a long and close relationship with St James — the Coles children attended the local school and GJ Coles purchased the St James shop from his father, taking the first step on his successful business career.
Mrs Beattie said GJ Coles never forgot where he came from, and although he has passed away, the Coles company has carried on the legacy in the local area, supporting many projects. Coles donated $20,000 towards the GrainCorp silo art project, with the town of St James undertaking fundraising for the rest of the funds.
Moira Shire Council has also supported the community project with expertise and logistical support.