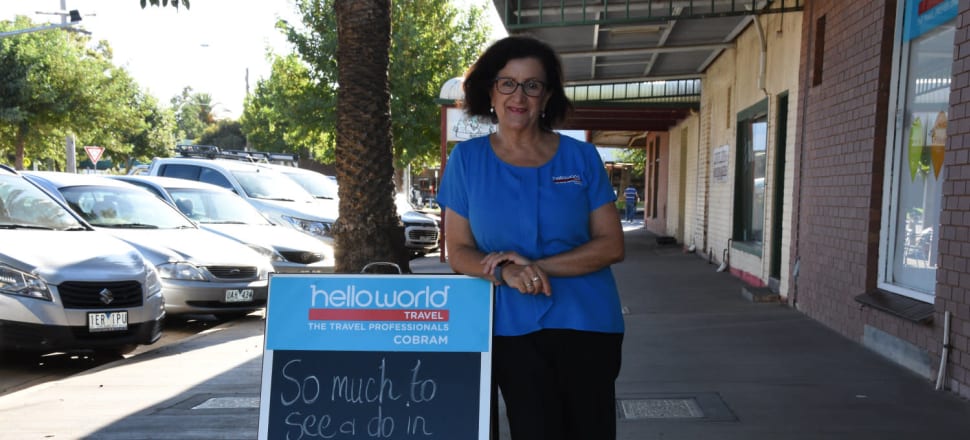 5370537724001
Cobram's Rosa Mete was 15 when she started working in the travel industry – she even knows the exact date her award-winning career started.
"It was February 24, 1973, and I remember it like it was yesterday," she said.
Cobram born and bred, Ms Mete was doing work experience in a mixed business with the late Ian Nethersole, who ran Cobram Sports Depot and Cobram Travel Agency.
Ms Mete was told to dust off a pile of travel brochures – but she could not keep her eyes off the contents in the pamphlets.
"I picked them up and thought, this sounds awfully interesting," she said.
Fast forward 47 years and Ms Mete, 62, owns and manages HelloWorld Travel Cobram with her husband, Greg Luff.
This year, Ms Mete faces her biggest challenge yet - the coronavirus crippling the global tourism industry with increasingly legislated travel bans and airlines dropping services – measures beyond the control of a travel agency consultant and owner.
Ms Mete has faced many challenges before – the rise and rise of the internet has provided stiff competition for her.
But she conquered that with quality service and being a local face so the customer had someone with whom to work.
"What people who book travel online need to be mindful of – particularly in times we're facing at the moment – is whether they can contact those online services at 2 am or 3 am to help them out if they're stranded or need travel arrangement assistance," she said.
"Because that's what we (Rosa, Greg and consultant Sue Hoban) do around the clock; you can have the best-looking office in town, but without customer service, it's nothing."
During tough times, Ms Mete rolled the clock back to other challenges she has confronted.
"When we had 9/11 in 2001, we had three bad years for travel in a row (with the Bali bombings to follow) and it goes on – SARS, the GFC, the droughts – all these things affect locally owned small businesses," Ms Mete said.
"We're an industry that will bounce back – but there's no doubt this is the toughest I've seen it in 47 years.
"It's affecting the whole world – for public health and safety, airlines and governments are shutting down borders because of the coronavirus."
Ms Mete said the restrictions inhibiting her work were fair and necessary.
"The authorities must know more than we do, so they must be putting the appropriate measures in place," she said.
"It's going to cripple tourism for a little while, but these two weeks have been the most challenging – we've had clients all around the world saying we need to get back and leave as the border is closing.
"Greg and I are always able to help – people have a face to put their queries to, people know they can contact me, Greg and Sue.
"We've got to ride this wave of troublesome times in our industries – it's not just HelloWorld Travel Cobram, it's people right across the globe."
Generally, the first six months of the year are HelloWorld Travel Cobram's busiest, but Ms Mete said these are "extraordinary times", with nobody coming in.
"This year is going to be tricky, but the biggest peace of mind for us is our clients coming back safely," she said.
Ms Mete said what always kept her motivated was the fact she lived in an "awesome town".
"We're supported by the smaller towns around Cobram; we've got incredible clients, I love meeting people and making people's dreams come true," she said.
And a strong sense of optimism is painted all over Ms Mete; she hoped when travel panic stopped, people started panic buying with her store.
"Our clients really want to travel, but that control has been taken out of their hands," she said.
"I predict 95 per cent of the population will travel in 2021 – most people aren't cancelling, they're postponing.
"It's imperative we support small businesses, we keep the buck in town, and keep our town alive and sustainable."