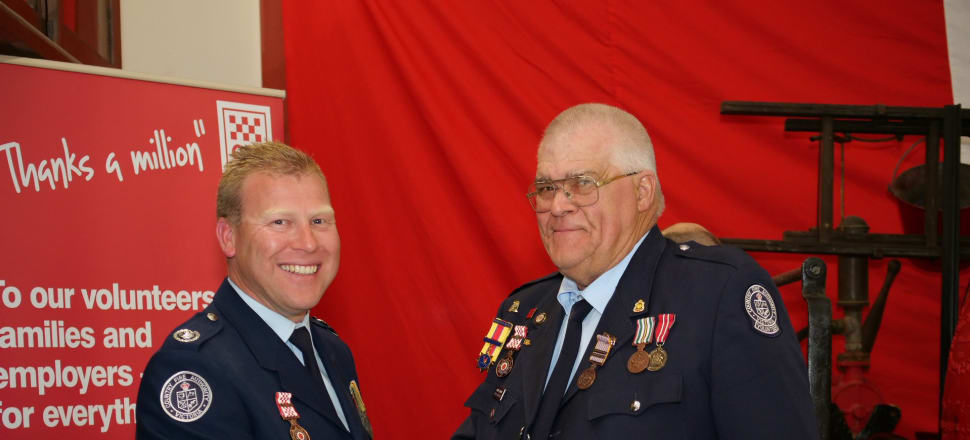 5370537724001
Rutherglen CFA firefighters were recognised for their service at a presentation night, held last Saturday, October 19.
The Rutherglen Fire Station's engine room was transformed into a dining and presentation area, with the brigade's first appliance, a 1927 Chevrolet, used as a backdrop for the momentous occasion.
Nine firefighters were presented with the prestige of a national medal, which is awarded for diligent long service to the community in hazardous circumstances, including in times of emergency and national disaster, in direct protection of life and property. It is Australia's most awarded civilian medal.
Milton Thompson was presented with his first, second and third clasp, each representing ten more years of service under the national medal criteria.
Rutherglen CFA life membership was presented to Glenn Marquison, in recognition for eight years as captain and 25 years of diligent service to the Rutherglen Fire Brigade.
In addition, life memberships were presented to Jim Baskett and Tony Cooper for 40 years of dedicated and diligent service to the Country Fire Authority, as approved by the Operations Manager of district 24.
Full list of awards:
Jason Goudie – 25 year service award
Aaron Benbow – National Medal
Chloe Rowland – 5 year service award
Milton Thompson – National Medal
John Pleming – National Medal
Murray Jenner – National Medal
Tony Cooper – National Medal and CFA life membership
Jim Baskett – National Medal and CFA life membership
Glenn Marquison – National Medal and Rutherglen Fire Brigade life membership
Tom Ambrose – 5 year service award
Brett Myers – CFA District 24 Commander
Natalie Keaveney – National Medal
Murray Thompson – National Medal (received by his father)