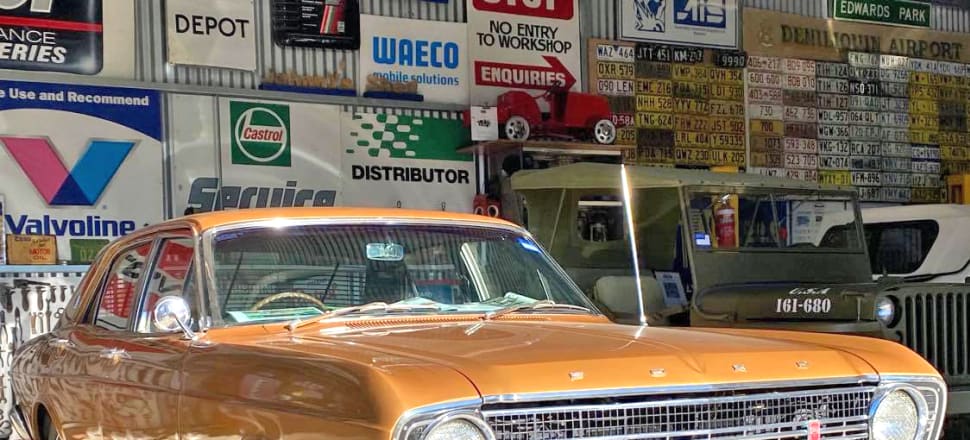 5370537724001
Deniliquin will feature on another two upcoming episodes of the program Classic Restos after a visit by its host Mark 'Fletch' Fletcher last week.
It was his second professional trip to Deniliquin, having visited to cover the opening of The Depot Historic Vehicle & Memorabilia Collection earlier this year.
Mr Fletcher returned for another look at the ever changing displays at the museum, and to see the new Cruizin* Diner which perfectly complements the tourism attraction.
But he also wanted to explore what else Deniliquin and district has to offer, so Neville Purtill pointed him in the direction of John Thomas and his shed full of amazing collectables.
Mr Thomas said he was initially warned Mr Fletcher would only be able to stay for about two hours, but it soon became an all day visit.
''I have nine cars in my collection and he featured three of them — the gold 1967 Ford XR GT, a 1970 Falcon panel van and the burnt orange 1974 Ford XB GT,'' Mr Thomas said.
''In my collection I also have 190 pedals cars, scooters and trikes, some dating back to 1919, as well as signs and a big collection of number plates.
''It is getting pretty full in there.''
Mr Thomas' wife Denise, who was also interviewed by Mr Fletcher during the visit, said the show's host had a plan as soon as he saw the contents of the shed.
''He knew exactly what he wanted to look at, and even took the gold GT for a bit of a test drive,'' she said.
Mr Fletcher said the gold GT is a ''special'' car because of its place in Australian motorsports history.
''The 1976 XR GT is a pinnacle car and in my opinion very iconic,'' the host said.
''That car won Bathurst in 1967 — Fred Gibson drove it and won.
''But all of the cars were special in their own way and had their own stories.''
Mr Fletcher said the sheer amount of content he got from both The Depot and Mr Thomas' shed means he can create two episodes based on his trip.
He said the episodes should be released in about five weeks, after all the content is edited.
''People don't understand how long it takes to do an episode,'' he said.
''I spend eight hours filming for 90 minutes of content, and of that we get a 26 minute show.
''I shoot, present and host the program myself, and over 14 years I have produced 620 episodes.''
Mr Fletcher said he is keen to return to Deniliquin again in the near future, and see what else he can find hidden behind shed doors.
''Traditionally I would attend car shows and occasionally feature an independent collection.
''But the way the world is now, we're doing more of the individual and it is really working.
''When this is all behind us, I intend do keep doing more of them.
''I do want to come back to Deniliquin again — there is something about the place and part of that is the open armed support from Neville Purtill.
''Deni is a feel good place, and very hospitable.''
Teasers of the Deniliquin episodes will be shared on the Classic Restos Facebook page when the episode air dates gets closer.
All episodes of the program, including the original episode on The Depot which aired three months ago, can be viewed at https://www.shannons.com.au/club/videos/channel/classic-restos/.