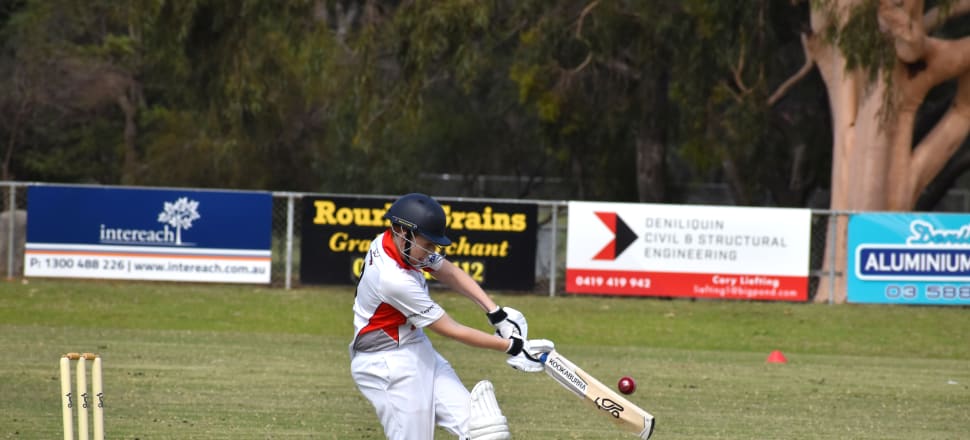 5370537724001
The Deni Rhinos Under 14s are a game clear on top of the Murray Valley Cricket Association following a thrilling win at Memorial Park on Saturday.
The Rhinos hosted Cobram in a 2019 grand final rematch, with Deni recording a 10 run win.
The hosts managed to keep the Tigers to 8/61 from the allotted 25 overs, despite giving away 15 wides.
Lachlan Holloway (2/3 off four) and Charlie Paton (2/4 off four) starred for Deni with the ball, while Cooper King (1/6 off four), Noah Bradley (1/11 off three) and Hayden Doncon (1/6 off two) also bowling well.
In response the Rhinos just managed to get over the line, finishing their 25 overs at 8/71.
Paton led the way with the bat again, retiring not out on 20, with no other Rhinos batsmen reaching double figures.
Rhinos coach Anthony Bradley said the game felt like last year's grand final.
''We were chasing a score in the 60s which happened in the grand final last year,'' he said.
''We had a solid start with Charlie (Paton) scoring well, but there was a point where I thought we might have lost the game.
''We bowled okay for the most part but we still gave them 20 extras. They only bowled five wides (with 16 extras) so that could've been the difference between winning and losing.
''But a couple of late wides and singles saw us home.
''It was impressive to win, as we no longer have our best bowler in Ryan Rotherham, who has moved with his family to Batemans Bay.
''We were also missing one of our better batsmen in Angus Wright, but I guess most teams may be missing a few with school holidays.
''Jake Herberte (six) also played a crucial role in batting for about 10 overs, picking up a few byes and keeping the pressure on.''
The win was a crucial one for Deni, with second placed Katamatite suffering a loss against Tocumwal White on Saturday.
Bradley said it allows his side some breathing space on top of the ladder.
''If we can win against Barooga this weekend, then we should finish on top,'' he said.
''We already have a one game gap on Katamatite now, so it's important for us to hold that advantage.
''Barooga are going to be tough to beat though, so we will have to be at our best.
''The game against Cobram was good for us in preparation for finals. We haven't really had many close games this season, so to be able to withstand that and win is a good confidence boost.''
The Rhinos will have the week off for the Australia Day long weekend before playing at home again when they face Barooga on Saturday, February 1.