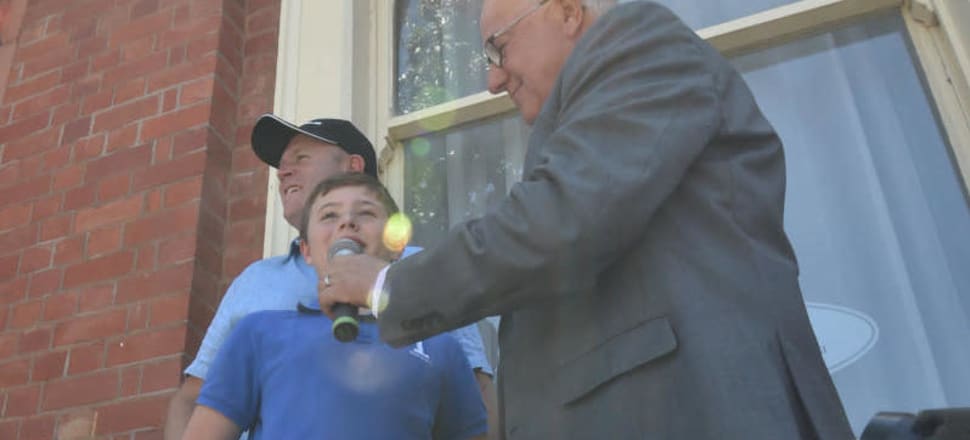 5370537724001
KYABRAM on a sun-drenched spring day. A small country town where the few people about in its side streets were already drifting towards the shade, and happy to linger there.
But summer had yet to come; lawns were still manicured, verdant sprawls; blooms thrust above fences still bravely hanging onto their colours in the dying days of spring.
In Church St hardly anything was moving. Even that other sprawl in the street – the buildings of St Augstine's school – appeared deserted. No kids could be seen or heard, the only sign of any life the occasional staff member, appearing through one door and disappearing into another.
Perhaps only Drysdale could have frozen it for prosperity, done it proud for Kyabram as he did for Moody's Pub in Seymour; and the main drag in West Wyalong.
Until the moment was suddenly gone, the 21st century kicked out of its reverie as a very 21st century European luxury car came around the corner and parked outside the school.
There was no fanfare, not a single welcoming functionary. Only a few galahs and two exceedingly raucous crows were on hand to welcome the stars of the day.
Who had left their car and were wandering across the lawns towards the school; for all the world like any other local family just passing through.
However, they must have been expected for no sooner had they vanished around one corner than people started coming from the other direction to find them.
Danny O'Brien had come 'home' and brought wife Nina and their children Thomas and Grace to share the day with him.
It was a homecoming by popular demand because this favourite son brought something else with him – the town's 'first' Melbourne Cup.
O'Brien's might have been a slightly smaller version – it is the one presented to the trainer of the winning horse. But it is an exact copy, also weighed down by the gold in it.
And best of all, anyone and everyone was allowed to pick it up, have their photo taken with it or just get a buzz out of being part of the circus.
With this down-to-earth former Kyabramite there was none of the white glove wank the VRC insists on whenever one of the owner's trophies is wheeled out for publicity.
Just a local bloke letting his childhood mates – and even some of his old teachers – get a kick out of seeing a local boy who made good.
But even the man that boy has become must have shaken his head a couple of times and wondered how he got here.
It's a long way from a bush paddock in northern Victoria to the birdcage at Flemington. From a doctor father who dabbled in training and running horses on country tracks to Royal Ascot, training for international owners, including oil-rich Arab sheiks.
A hell of a long way from the 25-year-old who in 1995 launched his career as a trainer with just one horse – the appropriately named Mad Hatter.
And just a few years ago it was an even longer way to fall when O'Brien was caught up in racing's cobalt controversy and disqualified from training.
Yet despite it all, here he was, being feted in the town where he went to school, first got to work with Thoroughbreds and first followed his father Peter around the stables he had set up on a small farm outside Ky.
Crowds for the day would not be huge, simply because the town isn't. And just about everyone turned out at some point to see O'Brien and his cup.
The opening salvo of celebration was right out of the CWA playbook. In St Aug's school canteen/kitchen were spectacular homemade sausage rolls and scones with a bunch of people crowding the small space; many of them already known to O'Brien and his family and the few who weren't quickly stepping up for introductions.
Fittingly, the one spot where he did pull a serious crowd was right there at his old school; he packed out the assembly hall/gym, cheered by hundreds of bright-eyed students, and grilled about his career. One young wag obviously missed the subtlety of O'Brien's explanation about finding something you love and you'll never work a day in your life, asking "so, when are you going to get a proper job"?
He was ever so mildly roasted by his old principal and a former teacher, regaled by the current principal and the little stage was mobbed when the student leaders were invited forward for photographs with the cup.
There was a brief, unexpectedly poignant and intimate moment as he prepared to leave the school. In a quiet corner of its grounds the school has a memorial garden, dedicated to the memory of former students who had died young.
One of them was Elisha O'Brien, who at just eight would die from a viral illness, and O'Brien and his family managed to slip free from the throng for a moment's reflection; and give thanks for the school maintaining the memory of his sister in their hometown.
The rest of the day would be a whirlwind of stops, starts, more stops, visits, local media (and TV's 'big guns' up from Melbourne), dignitaries, people he had grown up with and people he had never met.
Impossibly, O'Brien, Nina, the kids and former teacher Brian O'Meara, all squeezed into the old chalkie's mint condition convertible Austin Healey for a mini motorcade down Allan St, the retail precinct of the town, escorted by the local SES and police while the adoring, and occasionally curious who had somehow missed the memo and weren't sure what was going on, stopped to stare.
A reception in front of the old town hall was classic country, the sound system played up, someone forgot to partly block the street' leaving some of the town's more veteran citizens having to scoot quickly when they realised traffic was still coming through.
And the even older lady with her walking frame had to be helped along after setting up right where the motorcade would end.
There were souvenir posters of that cup win – Vow and Declare lunging for the line, jockey Craig Williams' face lighting up and a triumphant shot of trainer and hoop pumping the air post-race – provided by the Ky Free Press, which O'Brien stood there signing for 15 minutes or more.
Before being whisked over to the Free Press office for this one-on-one about his triumphant homecoming.
But rather than talk about himself, he only had questions about the Kyabram Bombers and "how bloody good is that team"?
He also talked about his journey, from being as mad as a hatter at 25 to Mad Hatters' first win at Sandown, a late Christmas present in his first year as a trainer, winning on Boxing Day at Sandown in 1995.
With his cash from Mad Hatter's win (topped up by a sixth place in the '96 Australian guineas behind Flying Spur), O'Brien headed to the Magic Millions Sales and purchased a filly, later named Kirkberg, and she became his first black-type winner when she took out the 1996 Maribyrnong Trial Stakes at Flemington on debut.
O'Brien, however, had trouble focusing on anything except his visit here.
"I just can't believe the reception we have had here today," O'Brien interrupted.
"The one thing you learn very quickly when you win a Melbourne Cup is that it really is the people's cup, everyone in Australia seems to have a stake in it and I still can't believe the number of congratulations we have received from overseas, from people you know and even ones you don't," he said.
Then he wanted to revisit what he saw as the highlight of the day, his return to St Augustine's.
And just as clearly didn't want to revisit things such as the cobalt saga, when an industry wide crackdown on its alleged use (and abuse) saw some very big names being shaken out of the racing tree, including him and fellow trainer Mark Kavanagh.
"It was a difficult time, with everything we had to go through, and it took so long, more than three years, but I guess that's bureaucracy," he said quietly.
It still rankles. The accusations, his name, and his family's name, being dragged through the mud, the summary disqualification from running his business.
"But our owners, our staff, all got a clear message from me – the charges were wrong and I had faith that the system would work.
"And it did, just very slowly."
That part may be over, and O'Brien just as clearly didn't want to mar the magic of this day, but there may still be more to come there – but this time he will be the one making the claims.
He also laughed when asked about training overseas.
"I'm just a hometown boy," he insisted.
"I have more than enough to keep me busy here. It worked for Bart – and I reckon he's still the best trainer Australia has ever seen – so it will probably work for me too.
"I've raced horses overseas, in Dubai, Hong Kong, got very close a couple of times at Royal Ascot and I have international owners in Asia, the UK and Qatar and am very happy in Melbourne and with our complex at Barwon Heads."
These days life is also a bit more demanding than 1995 and good old Mad Hatter and it would be remiss not to acknowledge some of the more incredible things O'Brien has achieved on the track.
His string of Group One winners – from all across the country. The horses he has run overseas and perhaps the most remarkable of them all, the year he won the WS Cox Plate, the weight for age classic considered the ultimate prize for racing's purists.
"In the spring of 2013 we won the Cox Plate with three-year-old colt Shamus Award – the first maiden to win the weight-for-age championship of Australasia in the race's 91-year history," he explained.
It was an astonishing result from the man who has this knack of doing the impossible.
Such as being the first trainer in more than a century to achieve the Group 1 double of the SAJC Goodwood Handicap/Adelaide Cup in 2005.
There was the Blue Diamond, the Coolmore and the Newmarket – in 2007 he repeated a quinella that hadn't been seen for a quarter of a century in the Caulfield Cup with his Master O'Reilly downing stablemate Douro Valley.
With as many as 120 horses in training and new crops of yearlings coming on, O'Brien counts his spare time each day by minutes – and rarely needs more than one hand to count those.
"We have between 40 and 50 staff at times and while we obviously rely on a lot of very talented and dedicated people to keep on top of them, I still have to be across every horse we have, from how they are eating to how they pull up after races, what the jockeys thought after a run and what the track workers tell me before they go off for one.
"I grew up with horses and I still see myself as very hands on; and I try to be accessible to anyone who wants me, owners, staff, media, it's all about the little things, people want to know you know who they are, about their horse and about the next race."
He's also disarmingly philosophical.
There are, he explained, so many more lows than highs, so many disappointments with horses you expected to go really well and they didn't. And you can't point blank ask them what went wrong.
"The ones who put in a bad run disappoint you, as well as their owners and the punters; the ones who get injured devastate you," he admitted.
Which brought him to the small but growing fringe element of activists now targeting horse racing.
"It's a shame some of these people don't spend some time inside stables, see how much the staff love the horses – and how much the horses love the staff," he growled.
"Horses have developed for 300 years or more as supreme athletes, they love to run and to compete, it's in their DNA.
"And we know where all our horses go when they are retired. Most of the females go on to become broodmares, the stallions become sires and geldings are in huge demand for other equine activities, from club riders to eventing and dressage and showjumping.
"We are lucky the Bellarine Peninsula, where our major facility has been operating since 2010, has such a rich horse community and culture.
"The ones we haven't been able to place still live with us, retired on our farm and enjoying their senior years."
Then it was back to the schedule – it even included a diversion to Warramunda, the local aged care facility where O'Brien went to press the flesh with those too old or infirmed to have made the events in town. He didn't have to do it; there were no future owners in that crowd. But that was the low-key beauty of the day; that's what happens with country people in their hometowns.
And finally the Ky Club, where a sellout ticketed fundraiser for the local hospital put O'Brien back in front of another microphone (happily, one that worked) for another Q&A session before he had to bolt for Melbourne, heading south out of town a little later than planned.
To a dinner with his owners of the boom filly Miami Bound. The three-year-old broke its maiden at Bendigo in August and at the spring carnival took out the Group 2 Wakeful Stakes and then the Group One Kennedy Oaks.
Four wins from seven starts and prize money just shy of $900,000 and more to come.
He's already thinking about her and the next Melbourne Cup. And O'Brien makes no secret he plans to have Vow and Declare back there in 2020, on that first Tuesday in November in a bid to enter that very exclusive pantheon of those who have win the cup twice.
So what's a Melbourne Cup worth?
Really worth?
Forget about its gold content, ignore (if you can) the multi-million dollar pay cheque, forget the fashionistas and cognoscenti at Flemington; for the horse trainer Danny O'Brien the cup was many other things.
A long-overdue payment for almost 25 years of 4am starts, of 100 disappointments for every success and of the time he can't spend with his family.
It was reward for the 14 or 15 shots he has had at the world's greatest handicap race and come up empty.
And it may also be the down payment on the next 25 years because, as O'Brien knows, unless you were Bart Cummings you don't win a Melbourne Cup every day. Perhaps that is something he knows better than most because he would spend some of his most formative time working with the Cups King before moving to be foreman with Caulfield trainer James Riley. But he still rates Cummings as the greatest professional influence on his life as a trainer.
But all that emotion and pressure was not just put on hold last Thursday.
No question he had had enough questions, especially about the cobalt and his comeback from the edge of the professional abyss, just as there was also no doubt the whole sorry, at times tawdry, affair made him more determined to prove his point where it counted – on the track.
And on that first Tuesday in November, with a horse called Vow and Declare, his statement was emphatic.
Not that he knew it.
"I was standing in the mounting yard and when they went past me, with about 200m to go, I knew the horse had run a great race but I thought it was over because the others had caught him and a couple had gone past," he said.
"From where I was I could not see that second kick on the line and could not hear the call over the crowd so I still didn't know.
"Then the journalists there started to turn and come towards me but I would not believe it until I saw the number go up."
And then Danny O'Brien was really home. On a racetrack. Surviving the potential end to his career. And winning his first Melbourne Cup.