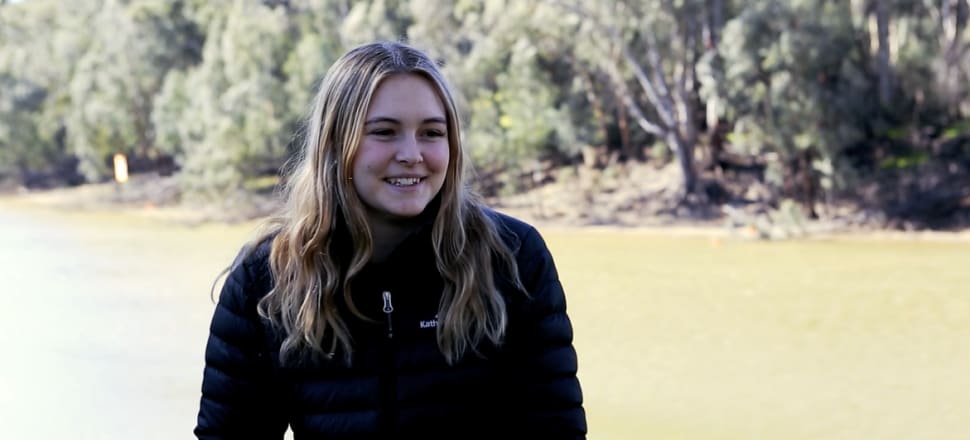 5370537724001
As part of Mental Health Week, nine locals from Echuca-Moama and surrounds will share their stories.
Anxiety has played a key role in Molly Bruns' life since she was 12 years old.
And while she's learnt how to handle it, she encourages others to speak up if they are struggling.
This is her story.
Produced by Cath Grey and Charmayne Allison
---
---
WHEN Echuca's Molly Bruns walks into a room, she's all ease and friendliness, her infectious smile quickly spreading to those around her.
It's hard to imagine that sometimes, for her, just walking into a room is a struggle, her hands shaking, mouth going dry, heart beating a mile a minute.
Has been, ever since she was the tender age of 12.
"My Poppy was really sick and in intensive care in Bendigo and we also had a bit of family problems going on at the time," she reflected.
"I came back from seeing Poppy in Bendigo and sat in my classroom and I was just shaking.
"It was a panic attack or anxiety attack but I didn't know that was what it was. I was just sitting and shaking, sweating, I couldn't concentrate and I eventually went out of the classroom.
"That was the first major thing that happened."
As time progressed, Molly felt her anxiety grow, her hands shaking even when she was at home.
"I didn't really know what was wrong with me because I was so young and in school they didn't really talk about mental health as much," she said.
Her mum took her to the doctor, where Molly was diagnosed with anxiety, given prescription medication and directed to see a psychologist.
But gradually her anxiety spiralled to the point it morphed into depression and she was put on more medication.
Molly grappled with what was happening in her body and brain, still too young to fully understand.
"I'd sit in my room and would hate going anywhere. There's been times mum's had to force me out of my room and I'd be in there crying," she said.
"I would just have breakdown after breakdown, even when sitting down and doing nothing."
But seven years on, the 19-year-old has learnt how to handle her mental health.
In addition to psychology, she's been on and off medication – although she finds she feels better without it.
Exercise has been the biggest thing – it's rare not to see Molly in her gym gear, because Molly's not just running, she's running for her life.
The faster she goes, the further she gets away from the demons that have plagued her since she was 12.
Still plague her every day.
"It's played a massive role in my life and it still does," she said.
"I dread simple things like answering phone calls, calling people and I can't go anywhere by myself into shops and stuff, that makes me so nervous.
"Even with work, I work every day and still get anxious before I go to work."
But Molly has found talking about her mental health to be the biggest healer.
"Try and talk to someone, go to the doctor, anything," she said.
"It's important, otherwise it just gets worse."
If you or someone you know needs help now, call Lifeline on 13 11 14 or Beyond Blue on 1300 22 4636. If it becomes a crisis go immediately to the nearest hospital or phone 000.