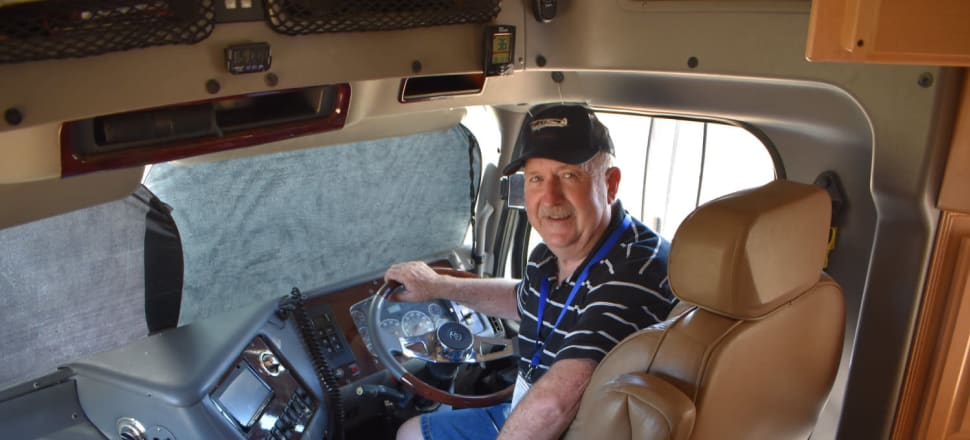 5370537724001
HAVEie you ever found yourself stuck behind a motorhome on the open road, doing 20km/h below the speed you could be doing, a car sitting on your tail at the head of a line of other cars banked up behind you as far as your rearview mirror will allow you to see and thought — wouldn't it be great to be stretched out in the back of that motorhome with a cold can in your hand and not have to worry about the world outside?
For the members of the Campervan and Motorhome Club of Australia (CMCA), that thought is their reality.
The freedom of the open road, to travel when you want and stop wherever you want without worrying about accommodation is what drove 1500 people to northern Victoria last month.
The 34th National CMCA Rally saw more than 800 RV's set up camp at the Elmore Events Centre for eight days of fun, laughter and entertainment.
It was the first time in a number of years the CMCA national rally has been held in Victoria. Last year's event was at Gunnedah, NSW and next year's will be at Gympie in Queensland.
Often referred to as the ''grey nomads'', the average age of participants at the rally was between 65 and 70 but no one there shows any signs of slowing down.
Like Greg and Libby Beel of Rosebud who drove their Dynamax-Dynaquest XL around all the mainlaind states in the United States and five Canadian provinces.
''We bought it in 2013 over there and imported it back to Australia once we had finished,'' Greg said.
Originally left-hand-drive, the Beels converted the RV to right-hand-drive after bringing it into Australia.
''It's built on the chassis of a Freightliner truuck,'' he said.
''It's only a baby compared to what's in America.''
Ken and Dawn Muston of Shepparton imported their 1980 Prevost from San Francisco, and it is the only one of its kind in Australia.
''It's been a motorhome from day one and has only done 130,000km in its 39 years,'' Ken said.
''It's a really nice old girl.''
Tony and Mary Dillon travelled from Cairns with their Playmore Drifter fifth wheeler on their way to South Australia, though the trip will be interrupted by a flight back to Brisbane for babysitting duties for a month.
It's their third national rally and it's clear why CMCA members are so relaxed.
''It's the freedom,'' CMCA rally manager Kath Breen said.
''We're self contained. RVs have their own bathroom facilities and need to empty their waste.
''We promote the installation of dump points. We take all our grey water and black water with us and leave no trace as our policy.
''It's low cost camping and gives us the freedom of choice to stop where we want to stay.''
The rally has also been able to raise funds for nominated charities, such as the McGrath Foundation (for breast care nurses and breast health), along with prostate cancer research, the Royal Flying Doctors Service and a raffle for drought relief.
''Our members drive all over Australia and drive through devastated drought areas so it's important we acknowledge people going through those hardships,'' Mrs Breen said.
For CMCA member David Graham, the rally at Elmore had been one to remember.
''Elmore and Rochester are fantastic towns,'' he said.
''They've really looked after us and the people on this rally have spent a lot of money in the two towns since they've been here.
''And this site is magnificent.''