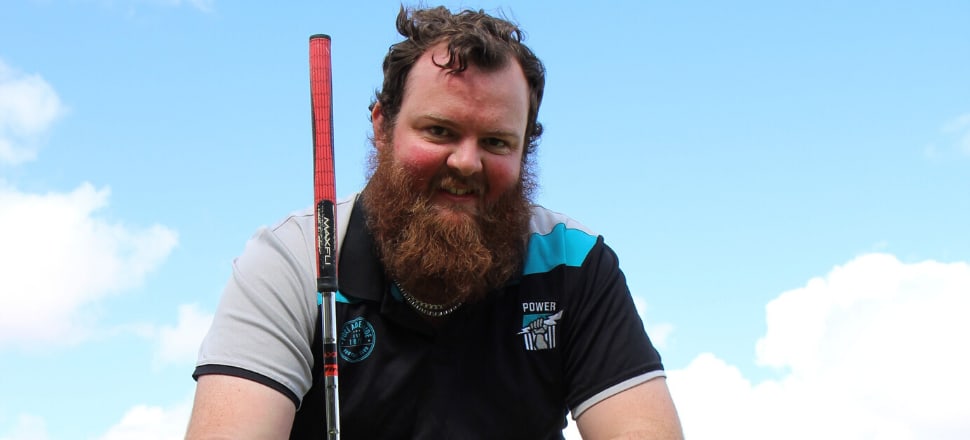 5370537724001
SEVENTY two holes.
That will take you 12 hours.
Just to play four rounds of golf.
It's a singularly painful equation that adds up to one drooping head, two dragging legs, two drained arms, a pair of strained eyes, maybe even a migraine (depending on how you played) — and your back, oh, your aching back.
Plus the pressing need for a solid sleep.
But when you total it all up, it doesn't come close to equalling the pain endured by far too many cancer victims.
After witnessing his best friend's fight with acute lymphoblastic lymphoma (ALL), Echuca's Sam Lyon knows that all too well.
Which is why he will be taking part in the Cancer Council's The Longest Day on December 9.
His best mate Daniel Pearn, now cancer-free for six years, right by his side.
"It will definitely be a challenge. Daniel will find it a whole lot easier than me, being lighter, fitter and a lot stronger than me, both mentally and physically," Sam said.
"I'm carrying many more kilograms than him so I'm expecting to be fairly exhausted by the end of it – and a lot during it.
"But knowing it will take a toll physically and mentally will give me only a miniscule taste of what Daniel has had to go through."
Best friends since year 8 at St Joseph's College, Sam and Daniel immediately connected over their identical, cheeky sense of humour.
It was this ability to make each other laugh in any situation that got them through the highs and lows of high school and into adulthood.
But all that was tested in 2010 when Daniel received that heartbreaking cancer diagnosis.
"I remember the morning after I found out, when the news was finally sinking in," Sam recalled.
"I was mowing a big green at my local bowling club, hoodie up over my head, headphones in, glasses on, clearly not wanting to talk to anyone and the tears just streaming down my face.
"'It's not fair', 'what am I going to do', 'I'm so pissed off' and 'you'd better not take my mate away from me' – all those thoughts running through my head as I tried to get the job done."
It was only when Sam's legs started to ache from the work that he was jolted back to earth.
"I realised these thoughts, while normal in a way, were very selfish," he said.
"Daniel has this massive road ahead of him and I'm here thinking how bad it is for me. That just didn't seem right."
Sam switched off the mower and went to find the club president.
Before he knew it, he'd organised a fundraising night at the bowls club.
"The night was a success – bowlers, supporters and just the general community came together for an evening of bowls, food, raffles and auctions," he said.
"More than $3000 was raised on the night and I announced I would be missing the next week of the bowls competition to personally visit Daniel in Melbourne and surprise him with the money."
Buying a cheap $5 leather wallet, Sam stuffed the cash in and drove down to St Vincent's Hospital.
While he had been warned Daniel would look different, it was still his best mate in the hospital bed when he poked his head around the corner of room 7.
"One of the funnier moments happened when I handed the wallet to him, he was that excited about the bloody thing, he loved it," Sam laughed.
"He hadn't opened it or anything, but I just remember him saying how nice it was over and over again.
"I had to prompt him to open it, and once he saw what was inside he looked at me, surprised, but then started telling me he couldn't accept this money.
"I said, 'You have to accept it. A lot of work from a lot of people went into getting that'.
"Walking out of the room after that filled me with a quiet confidence he was going to get through it."
Sure enough, he did.
Daniel has been in remission for six years.
And while time has passed and distance has separated them, Sam and Daniel still remain as close as ever.
And on December 9 they'll be side-by-side once again, teeing off at Rich River Golf Club to raise funds for Cancer Council.
And a future where no-one has to hear that same, heartbreaking diagnosis Sam's best mate heard nine years ago.
"Knowing Daniel will be next to me throughout The Longest Day makes me really want to get through it," Sam said.
"It wouldn't surprise me if I become quite emotional once that last putt goes in on the 72nd hole."
Sam and Daniel have already raised $1200 for Cancer Council and thank friends, family and local businesses for their generosity.
People can donate right up until the day by heading to longestday.org.au/fundraisers/sultanz-of-swing