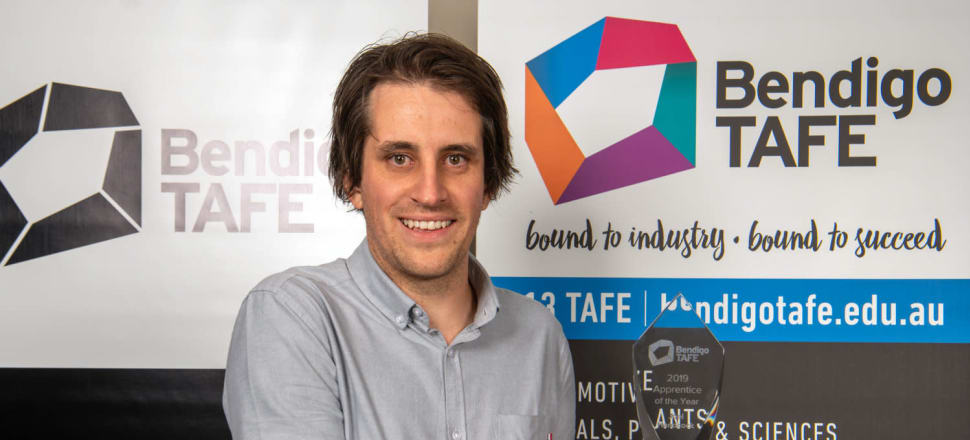 5370537724001
THREE locals have been recognised at the Bendigo TAFE Excellence Awards.
Joel Handcock was named Apprentice of the Year for his work in electrotechnology, but this isn't where his career started.
Although currently employed at Simplot Australia, the apprentice completed a Certificate III in his chosen field after seeking a change.
"I chose to do an electrotechnology apprenticeship after 10 years of being a fitter – it wasn't the right path for me. This apprenticeship has completely turned my life around. Now, electrotechnology is my passion," he said.
Changing trades and welcoming a daughter during the first year of his apprenticeship were significant challenges for Joel.

"I was a tradesman and I had apprentices under me, so going back to square one . . . it was a big challenge," he said.
"My daughter (was) born within three months of starting my apprenticeship. That was big. Lack of sleep, family life and trying to balance everything . . . but we got through."
Joel recently received a $12,000 International Apprentice Scholarship from the Global Apprenticeship Network (GAN) Australia and plans to travel to the United States to learn about apprenticeship training and automation technology.
"I'd like to thank all my teachers who have played a role in helping me through the years. I especially thank my third-year teacher Robert Spicer for being a very supportive teacher and mentor, and also someone I can call a mate," he said.
"I also want to thank Simplot — they have given me the opportunity to pursue two trade careers and I could not be more grateful."
But he wasn't the only local recognised on the night.
Hannah Mills was named Bendigo TAFE's Gold Medallion winner for Construction and Industrial on the night.
The Advanced Diploma of Building Design graduate began working at Ecotecture Design Group (EDG) during her first year of training, a job she landed with the help of her teacher Brian Stratford.
"I work there three days a week as a qualified building designer. I love that every project we do is so different from each other and I get exposed to so many different opportunities," she said.
"TAFE training has changed my life in a number of ways. It has opened so many doors, secured me a job in my chosen career path and has enabled me to travel overseas as part of a study tour. I made some incredible friends as well."
Hannah said her success could be attributed to immense support from TAFE, work and home.
"I'd really like to thank my teachers, Brian Stratford and Sonia Vescovi, for everything; my employer Alastair McDonald for taking me under his wing as a first year and mentoring me through my course; and lastly my family and friends for their love and support," she said.
Bendigo TAFE's Jack McPhail Award for Apprentice of the Year: Engineering (Mechanical) winner Heath Squires is an example of how TAFE can help people build a profession around their interests.
"I was working as a steam engineer on Echuca's fleet of paddle steamers. I chose my course as it allowed me to develop in areas where I knew my skills were lacking," Heath said.
"My TAFE training has opened a world of new opportunities to me; it has offered the possibility to merge my hobbies and work life together."
Heath said receiving his award was a humbling experience.
"There are so many talented people that I've met throughout my course. To be chosen as apprentice of the year is extremely humbling," he said, pointing out that his teachers Tony Staples, Dean Heather and Simon Harris "went above and beyond" to support him in this training.
Heath is thriving in his current job as a fitter at AWMA Water Control Solutions, and said his job had allowed him to see some ``amazing country, both in Australia and overseas" doing onsite work.