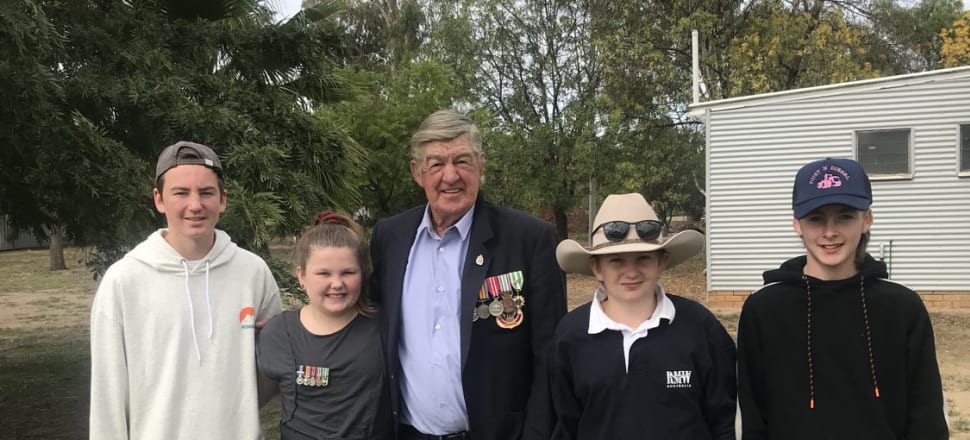 5370537724001
NOEL Lake is a man of few words.
And yet an OAM for service to veterans and their families speaks volumes about the kind of man he is.
Conscripted to national service in September 1966, Noel (or 'Koonda' as he was known) flew into Vung Tau, Vietnam as part of the 102 Field Workshop Unit of the Royal Australian Electrical Mechanical Engineering Corp in 1967.
He was discharged September 12, 1968.
Upon returning home to the family dairy farm, Noel considers himself as one of the lucky veterans because he was welcomed into the RSL branch at Koondrook.
"At the time so many others weren't," he said.
Noel spent 10 years serving as the secretary of the RSL and in 1986 took on the role of president – a position he still holds today.
Wife Una said in all that time he had only ever missed two meetings - one when he was just too sick and another he simply couldn't make.
In 1988 Noel attended a Vietnam Veterans Welcome Home March in Melbourne where he bumped into a few of the blokes he served with.
After some serious reminiscing, the boys decided to host a reunion with Noel volunteering up the farm for the first one.
"It was sort of halfway between Melbourne and Sydney," he joked.
As is often the way with these things, the one off reunion in 1989 has turned into a biennial event at the farm attracting up to 70 vets and their families from across the country, including former Vietnam cooks Ian and Alan.
"Major Tinkler even came a few times and we all looked up to him like a father figure," Noel said.
The reunion has since become an important part of healing for these veterans as they share their memories and camaraderie.
"It is three days of talking, eating and sharing a few drinks- some of the blokes hadn't spoken about their experiences at Vietnam at all so it has been good for them," Noel said.
Daughter Kellie said she has heard the war stories over and over, most often each of the men finishing the stories for each other.
And like all members of Noel's immediate family, Kellie is exceptionally proud of her dad.
"He just quietly goes about supporting his mates," Kelli said.
"He never says much but he does a lot for the Vietnam community and the Koondrook RSL."
The self-deprecating Noel stands back and credits everyone else before himself.
He wanted to thank his loyal secretary Robert Forbes who has stood by his side at the RSL for the past few decades and all the veterans who served their country.
More OAM winners
Caring for the Cohuna community sees OAM for Peter Barker
Cohuna's Debbie Groves strikes big on Queen's Birthday