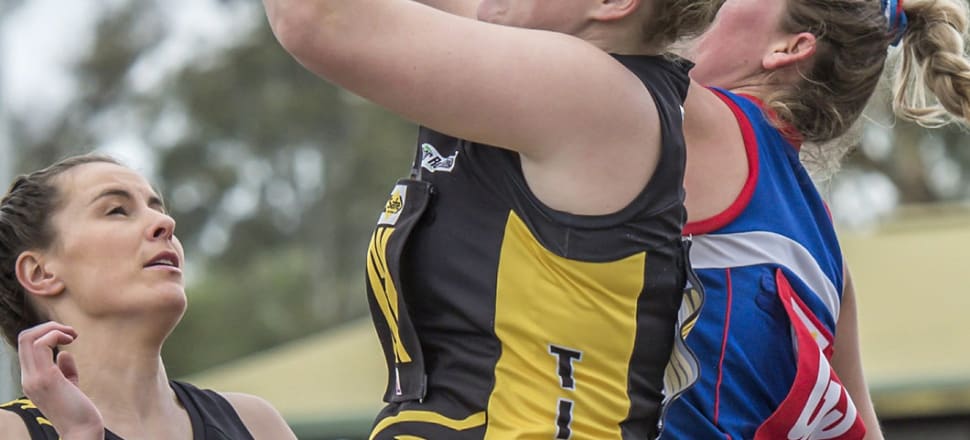 5370537724001
ROCHESTER'S A grade netball side produced a great team effort to score a narrow three-goal victory against Tatura on Saturday.
Ellie Cutriss and Lilian Ward drove well through mid-court as Ellie fed the goalers with precision and flare.
Morgan Dingwall shot the ball with accuracy from long range while Abbey Dingwall and Maddy Holt were tenacious in defence getting many tips and intercepts.
Shannen Keath came on at half-time and put her body on the line to win the ball.
In a great team effort the girls came away with an awesome three-goal win.
Best: Abbey Dingwall, Morgan Dingwall and Sahra Brooks.
Scores: Rochester 42 def. Tatura 39.
B grade: Jamie Dingwall and Linda Rasmussen played a great game in defence.
Jamie turned the ball over numerous times with a great display of her skills and fancy footwork.
The girls drove the ball down the court well with hands over everything causing headaches for their opposition.
The shooters worked brilliantly together creating space for one another and showed the crowd what they are capable of.
In a tough tussle the girls worked well together coming a way with much needed win.
Best: Jamie Dingwall, Linda Rasmussen and Annie Hughes.
Scores: Rochester 56 def. Tatura 34.
B reserve: The girls started strong with Alannah Gilmore and Kristen Moroney shooting strong but at the end of the quarter Tatura held a two-goal advantage.
Naomi Riordan and Kristy Roulston played great attacking netball but couldn't convert in the second.
Annalise Ball's fresh legs took on the centre position and coach Maddy Frawley went into goals.
But it was the hard work of defenders Grace Ingram and Zali Hocking which kept the team in contention.
Unfortunately it wasn't enough as the girls failed to make the most of Tatura's turnovers.
Best: Zali Hocking, Grace Ingram and Kristy Roulston.
Scores: Rochester 35 lt Tatura 50.
Under 17s: The girls knew they would have a tough game and Tatura came out firing to take lead at quarter time by seven.
The Rochy girls stepped it up in the second and fought back to close the gap to four at the half-time break.
Rochy played a nice third quarter to get back within a goal but Tatura held strong in the last and came away with a six-goal win.
Best: Elle Palmer, Tazarni Clarke and Eliza Williams.
Scores: Rochester 32 lt Tatura 38.
Under 15s: Rochester took the lead into the first break with Tegan Williams and Ava Cottom starting strong in defence.
Charlee Roulston had yet another great game feeding immaculately into Teal Hocking and Krystal Conder who are combining beautifully in the goal circle.
The second quarter saw brilliant passages of play through mid-court as the girls increased their lead to 12 at half-time.
When Alannah Weeks and Alex Ingram moved into mid-court, they gave the team extra drive and determination — forcing plenty of turnovers.
In the last quarter, minor errors began to creep into Rochy's game, but Tegan Williams ensured her team would overcome the mistakes with strong directive talk.
Best: Teal Hocking, Ava Cottom and Charlee Rouslton.
Scores: Rochester 57 def. Tatura 27.