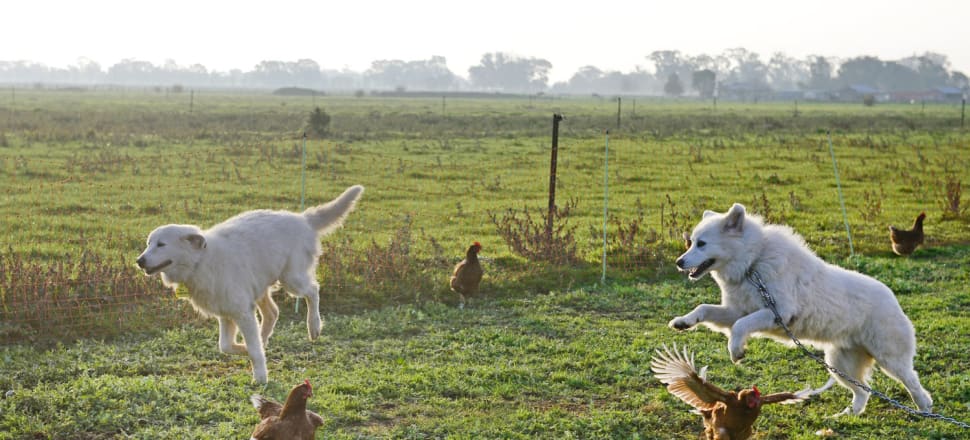 5370537724001
Yarroweyah mixed farmer Kim Whatman has two Maremmas who protect the 500 chickens on the 60.7 ha pasture-raised, free-range egg farm. Kim also runs Angus cattle and grows lucerne hay. Aldo and Q both arrived from farms where their role was to protect birds and — despite taking their job seriously — they always have time for affection.
What are their personalities like?
Aldo is definitely our alpha dog. He is a wise old soul and spends his day avidly watching for any kind of predator that may try and harm his chickens.
Q is our Maremma in training. Being only 15 months old she is still very excitable but has a very loud bark, which is important as she learns the finer points of her role as chicken guardian.
She loves belly rubs every day while Aldo will sit down for anyone anytime for a good brush. He just has to see it (the brush) and he walks over and sits straight down.
What is their role on the farm?
Their role is to protect and guard our 500 chickens. Aldo has had a lot of experience in this role and is incredible at his job.
Q is still learning the ropes but is a good student most of the time and likes to follow Aldo around patrolling the boundaries.
They both have their strengths and where Aldo is great at keeping an eye out for any ground predators like foxes, Q is fantastic at barking at any birds or aerial predators like hawks. When the dogs bark loud enough, the chickens run for cover.
How long have you had the dogs?
We only got the dogs a few months ago when we started our egg business.
Q came from a farm in NSW where she lived with lots of other Maremmas and about 5000 ducks. Aldo came from a local family farm just the other side of Wangaratta where he also fulfilled the role of guardian dog minding another flock of chickens.
How do they get along with the other animals on the farm and other dogs they may meet?
Both our dogs spend their time in the paddock. Our daughter Emily has a little dog called Picasso who is a chihuahua-cross-fox-terrier. Picasso occasionally likes to wander up to the chooks and see how the dogs are going. The dogs are more curious than anything about Picasso when he comes to visit, especially if Picasso is in his chicken suit.
What is the best and/or worst thing they have done?
Q likes to keep the chickens clean. Chickens being chickens, they occasionally leave a little chook poo on each other so Q keeps a keen eye and then tries to hold one down with her paw and lick them clean.
Aldo likes to go for wanders during the day sometimes to explore the farm and sometimes comes back covered in burrs. Anyone who has ever had a Maremma knows just how hard it is picking burrs out one by one.
What would you do without them?
I can't conceive being without them and not just because they are a working dog. They have become such a huge part of our family in such a short time. They are the most gentle-natured dog and so trusting and kind. They both love affection yet know when it's time to get down to business.