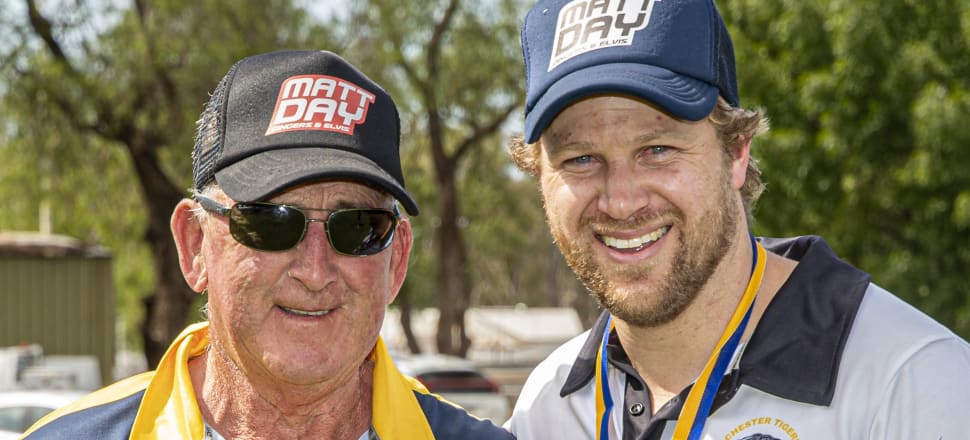 5370537724001
THE second staging of the Rochester Cricket Club's 'Matt Day' has been a resounding success, with a big crowd turning out to remember the lives of two well-loved cricketers and mates.
About 150 to 200 people packed Windridge Oval on Sunday for a cricket match and social day in honour of Matt Dingwall and Matt 'Elvis' O'Donoghue, two Rochester cricketers who were tragically killed in separate road accidents.
Both Matts were larger-than-life identities, known for their enjoyment of a great time with mates, love for their families and respect within cricketing circles.
It was that sense of fun that prevailed in Sunday's match in which two teams — an Elvis XI and a Dingers XI — made up of current and former Rochester cricketers faced off in a slightly altered T20 match.
Event organiser Dylan Cuttriss said about 14 batsmen ended up batting for each side in what turned out to be a 28-over game.
"The aim was to try and hit as many sixes as you can in the time you had out there," Mr Cuttriss said.
"There were a few cars in a little bit of trouble and there might have been a broken windscreen."
Scores were kept but as far as Mr Cuttriss could recall both sides scored close to 200.
The result of the game was unimportant, as live music, lots of food and a few refreshments maintained the social aspect of the day.
"It was a nice way for everyone to get back together and share a few stories about the boys," Mr Cuttriss said.
"We had a few guys who don't live in the region anymore come back and play.
"There were some who live down on the Mornington Peninsula who are always keen to come back and that helps make it a special day."
After the match, the Dingwall and O'Donoghue families decided on the 'Player of the Day', with the award not necessarily to the best cricketer on the day but rather the player who displayed the greatest 'Matt' characteristics.
The award, donated by Rochester SportsPower, was presented by the fathers of Dingwall and O'Donoghue - Bill Dingwall and Ian Crouch.
The recipients this year were Matt Hyden from the Dingers XI and James Gledhill from the Elvis XI.
The day followed on from the inaugural event last year, and organisers are keen to make it a permanent fixture on the Rochester sporting calendar.
"It's obviously a great day and soemthing we want to set up in the history of our club," Mr Cuttriss said.
"Both Matts were ripping guys who loved cricket and loved the social side of cricket.
"The aim of the day was about getting around your mates, have a good laugh, tell a few stories about both Matts and it's what the boys would have wanted."