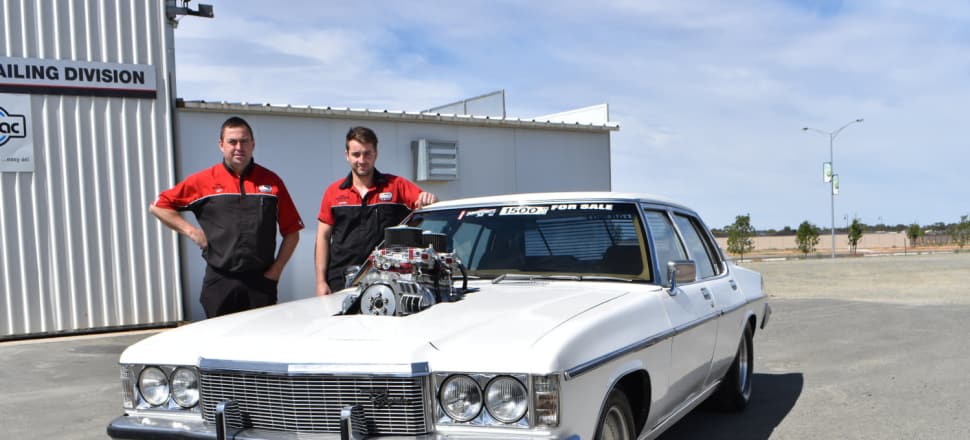 5370537724001
SUMMERNATS is all about the cars — driving them, admiring them or just being seen with them.
This year, more than 2000 of Australia's best modified vehicles and street machines took part in the 32nd instalment of the car festival, held in Canberra from January 3-6.
That number does not include the thousands of other modified cars which motoring fans brought along to cruise the streets of the nation's capital during the festival.
One of those cars was the 1978 HZ Caprice (Statesman) of Matt McIntosh from Echuca Service Centre.
Matt admits to being a huge fan of Summernats.
''I've been going since I was an apprentice mechanic so about 30 years,'' he said.
Matt bought the HZ about seven months ago in Melbourne without an engine or transmission in it.
He and co-worker Jayden Page installed a 400 small block engine with a 671 supercharger, a Turbo 400 transmission, nine-inch diff and tubbed rear-end.
Matt didn't enter his car in any events at Summernats, preferring to take up the street cruising option.
''The quality of our car wasn't good enough to enter anything up there,'' he said.
''It was just something to convey us from the motel to the events and back again. Just to drive in and out.
''It was a good weekend, with only a few minor car troubles.
''It was a bit of a handful (to drive),'' Matt said of the HZ.
''Having such a big engine it's got plenty of power.''
Matt and Jayden spent a couple of months to put the car together for Summernats.
''The condition of the car when we got it on the outside is the same as it is now,'' he said.
''It was quite tidy for it's age when we got it.
''I just like these cars. They're about my era. They're long, comfortable and it's luxury. Plus it's got chrome steel bumpers on it.''
The aim now is to add a few finishing touches to the car before moving it on so they can do up a 1972 HQ for next year's Summernats.
''The whole front end of it has been changed,'' Matt says of the empty shell of the HQ as he lifts up the bonnet.
''It's got a different rack and pinion steering on it.''.
Also looking to take a car to next year's Summernats is Echuca's Marcus Hamilton.
Marcus won a double pass to this year's event in a competition run by the Riverine Herald.
He took his wife Naomi and nephew Alex Maiden to the event.
''My nephew had turned 18 and wanted to go and see what it was all about,'' Marcus said.
''He loved it. He said 'Uncle Marcus, can we bring the car next year to cruise around in'.''
That car is a 1975 HJ Monaro which Marcus said ''still needs stuff done to it''.
''It's so expensive (to work on). As soon as you touch it, it's a lot of money.''
Marcus was pleasantly surprised to have won the double pass to Summernats.
''I entered but thought 'I won't win this','' he said.
''It was Alex's mum who tagged me in the comp so I thought I'd put in a picture of my HJ and it was all good.''
Despite not taking the car this year, Marcus still had a great time at Summernats and summed up the trip in one word — ''awesome''.
''There are so many different cars and they unveil the big show cars,'' he said.
''You see some of the older cars that may not have been there for five years or so and they've come back and you see what they've done to them now.
''There's some real radical ones. ''it's a big contrast of cars with huge engines hanging out of the bonnet.''
This was Marcus' 19th consecutive year at Summernats and there's nothing to say he won't be there for another 19 straight.
''I used to go with mates and stay in a marquee but it's a bit more relaxed now,'' he said.
''You do things differently as you get older but I still catch up with mates up there.''
Also at Summernats this year was Adrian Froon from Bunnaloo.
''About a dozen of us went up,'' he said.
''We were in a bus which could only pull one car so a mate brought his 1977 HX ute with a blown big block motor in it.''
Adrian usually takes his Bunnaloo Skid Val — a 1964 AP5 Valiant — which he has entered in the burnout competition at Summernats previously.
Unfortunately, the last two years the car caught fire during the event.
However, Adrian is confident the Valiant can still hold its own.
''It went to the Red Centre in September so it's still going,'' he said.
''We just decided to give it a year off Summernats.''