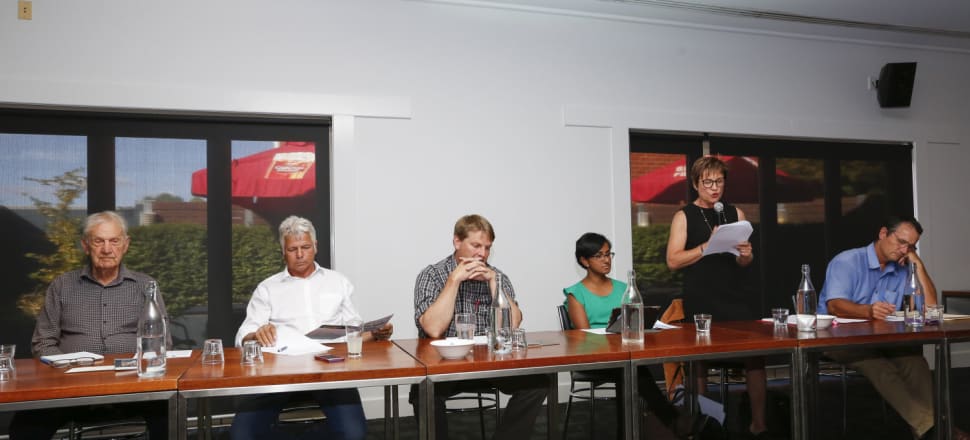 5370537724001
MORE than 60 locals gathered at the Border Inn on Tuesday to ask Murray candidates the tough questions.
Hosted by C4EM, the state election forum saw six of the seat's 10 candidates say their piece before participating in a community Q and A.
And there were no awkward silences, with audience members vying for the microphone until the final minutes of the meeting.
Not surprisingly, water was the key issue on the night.
Moama's Richard Ham opened question time by asking candidates what they would do if elected to ensure farmers received some water allocation for autumn waterings.
''If we can have a state of emergency for fire and flood, what about a state of emergency for drought where you release water?'' he said.
Nationals incumbent Austin Evans said it was crucial to continue working on the reallocation of water forced through the Barmah Choke and suspend the water-sharing plan.
''That will allow us to access some of the water available in the storages still — but when I suggested that (previously), the overwhelming reponse I had from irrigators was please do not do that,'' he said.
''Their main concern was the loss of carry-over water. But I think in the very short term, those are our two biggest chances.''
Shooters, Fishers and Farmers candidate Helen Dalton said the 305GL lost through the Barmah Choke should have been allocated to farmers.
''It's interesting Austin's not mentioning the additional 450GL upwater they still want to take out of communities and that just means hardship for all,'' she said. ''We need to pause the plan for a start and monitor and meter the north before it does start to rain so you get your fair share.''
Greens' Nivanka De Silva said her party would support a national royal commission into the Murray Darling Basin Plan, while independent Brian Mills argued farmers' peak bodies were failing them and One Nation's Tom Weyrich urged irrigators to work together for a solution.
Moama's Sam Ferrier followed up with another political hot potato, asking candidates what they would do to explore sustainable energy options on the NSW side of the river.
Ms De Silva was quick to answer.
''We have a plan to set up a publicly owned energy retailer which won't be making energy for profit so it would sell electricity at the cost it was produced at,'' she said.
''That would take 100 per cent of its energy from renewable sources like solar and wind power. And there's also a plan to set up a renewable energy hub in this region which will create a lot of jobs.''
Mr Evans said if the Liberal Nationals were elected they would introduce a policy to support solar panel and battery installation in homes.
And while Mrs Dalton said solar energy ''was all well and good'', she expressed concern solar farms were taking up good agricultural land.
''And solar energy won't cut the mustard totally, we need two coal-fired power stations in the Hunter right now to meet our needs,'' she said.
Mr Weyrich argued it made sense for the candidates to back renewable energy, however independent David Landini said he was a coal supporter.
''It's cheap, it's good. I know there are people who say there are all sorts of environmental problems with coal but there's a lot of evidence to suggest that's not the case,'' he said.
Candidates were asked who they would preference, with many remaining tight-lipped.