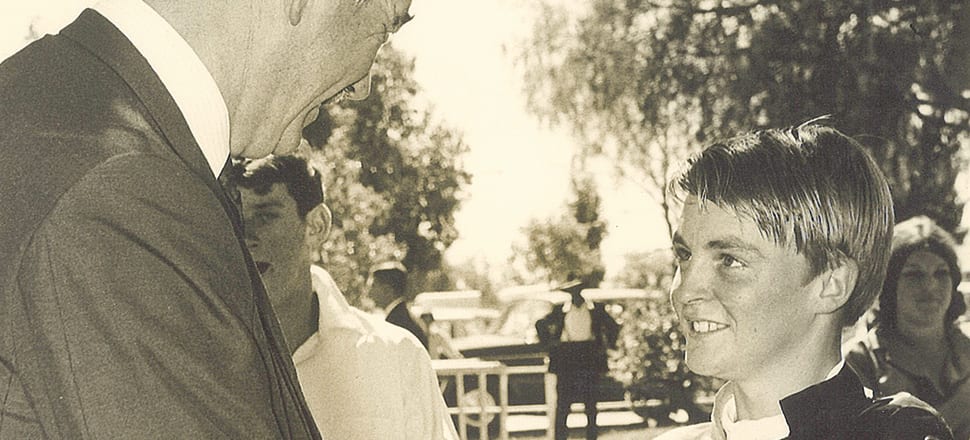 5370537724001
Corowa horse trainer and former jockey Geoff Duryea has trained and ridden more winners than he can remember but a race he finished midfield rates as special.
"A highlight was when I rode in the Melbourne Cup, in 1973 on Red Hope," the 68-year-old told The Free Press. How did it feel?
"Like all young blokes I took it in my stride. It was the first year that the prizemoney got to six figures and people said it was never going to happen again. Now it's $6.5 million."
Geoff's introduction to horses was via his grandfather Jack Barratt, a jockey in Melbourne.
"I had ponies ever since I was 10-years-old, at Balranald (where he was born). I first rode about eight," he said.
"There wasn't a lot on at Balranald - it was the only mode of transport. We lived near a big reserve. A lot of local kids had ponies."
At age 15 years Geoff moved to Berrigan to become an apprentice jockey.
"I loved it. It was something I could do naturally, being small and light. I rode a lot of winners but never a Berrigan Cup.
"I rode in Melbourne, still as an apprentice, to the legendary Bert Honeychurch. In those days the apprenticeship lasted until you were 21. Today it's only for three years."
Geoff won a lot of country races, including Cups at Wagga, Albury, Wangaratta and Corowa, and plenty of subsequent races in Melbourne.
After 17 years as a jockey, he, as it happens, got heavier, and after having to diet a lot more to make the weight, eventually decided to retire.
Not long after, the jockey became a trainer. "A lot of family and friends got me to go as a trainer.
"I train eight horses at present - the number's generally eight to 10."
The two biggest names at present, which has the racing industry talking a lot, are Front Page and his sister News Girl. With The Free Press newspaper, the names are so interesting.
"All the owners get a chance to submit a name," Geoff explained. "One of them had been speaking about a reporter named Stacey Lee, a very attractive girl and the name News Girl came about. Stacey Lee is also the dam's name.
"As it was, three or four people wanted Front Page which was submitted to Racing NSW.
"News Girl, Front Page, Page Three is the next one – keep it in sequence!"
From 18 starts, News Girl has five wins, three seconds and a third, including second in a Group 3 race at Caulfield in February this year.
Unfortunately, News Girl is recuperating in Wangaratta after undergoing stem cell surgery two weeks ago and will miss the spring carnival. Geoff had noticed some slight swelling and decided to have her leg scanned which led to the operation.
Better news is that Front Page is in "tip top shape", in preparation for the $1.3 million race, The Kosciuszko, to be held at Randwick, Sydney on October 17. The race is reserved for country NSW trained horses and Front Page is listed as the current $4.50 favourite.
Front Page has an impressive racing record which includes a hat-trick of wins this year, at Albury, Wangaratta and Flemington in a Listed race.
Geoff has witnessed a lot of changes at Corowa Race Club where has been a member for 45 years.
"It always has a really good surface, a good track to ride on, good committees over the years and curators," he said.
A proud family man, he and wife Maureen, have two sons Marc and Paul who played football with Corowa, Wahgunyah and Albury, and daughter Beth, who was 2001 Victorian Female Athlete of the Year as a runner; grandchildren are also keen on their sport.
Corowa Race Club President Brian Scolyer, in his third year as president, has known Geoff for 15 years. "I had horses in Melbourne and used to come up here racing and golfing," he said.
"I moved up in 2011. Geoff and his family were great to me when I first arrived. He was instrumental in getting me onto the committee. He has a great family, very much loved around town and done a lot for local racing.
"Geoff is one of the leading trainers in the Southern District Association. He's a good supporter of local footy, with his kids and grandkids."
Geoff is very unhappy about the COVID-19 restrictions which, among other things, prevent him being in Melbourne at race meetings.
But the highly successful jockey and trainer continues giving everything he can to the sport and will record many more wins.