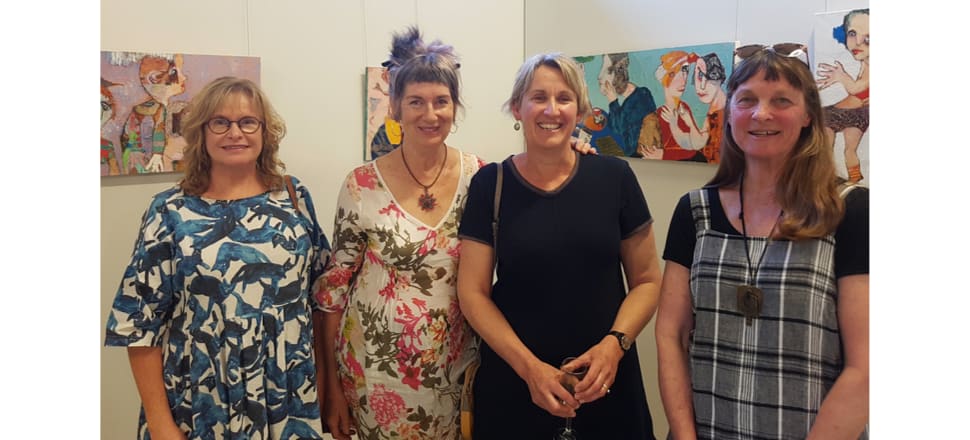 5370537724001
What's happening at The Foundry
The Foundry Arts Space has been abuzz recently with the volunteers' social gathering, annual general meeting and various exhibitions - from painters to potters, singers to sculptors.
It's all happening at The Foundry, which is open six days a week from 10am to 4pm (closed Tuesdays).
You can keep up to date with our program on our website emai.org.au or at Instagram @thefoundryartsspace
If you would like to become a member to support this local community group and receive members benefits and a monthly newsletter, please visit the website for membership forms that can now be processed online.
Your support is greatly appreciated.
The Foundry Arts Space is thrilled to announce our new president Glynis Kelly and vice president Tim Smallwood.
Together with elected officers and general members, we forge ahead into a very exciting era for the arts and culture in Echuca-Moama.
We thank Bella A Capella choir for an uplifting performance at our AGM, followed by an exciting, inspiring talk by guest speaker Chris Bilkey about the Moama Bridge Art Project.
This development will create an artistic journey for the mind, body and soul with a gallery space in Meninya St as well as a visually stimulating display of outdoor art that loops throughout bushland in a series of walkways and elevated viewing platforms linking to Echuca.
This can make dreams a reality for the dedicated artists, volunteers and members of the community who have fostered awareness and participation in the arts, culture and local history.
This project has the potential to catapult the Echuca-Moama region on to the map in Australia as a destination for art appreciation, inspiration and interpretation of our history and indigenous arts and culture in Echuca-Moama - "From little things, big things grow".
This visionary act of imagination and wisdom brings to attention the important role art plays in our health, wellbeing and understanding through the sharing of art and cultural stories with the freedom of self expression.
Art crosses borders.
On behalf of The Foundry Art Space, we thank all those involved with this vision and we are very excited for what the future holds for everyone.
Arty-Fact: The art of music in cultural stories.
The song, titled From Little Things Big Things Grow, written by Paul Kelly and Kev Carmody, relates to a story of patience and determination.
It tells the story of Aboriginal stockman and land rights leader Vincent Lingiari who in 1966 led more than 200 employees and family members of the Wave Hill cattle station to a strike that lasted for nine years - the longest in Australian history - over unfair poor working conditions and the rights to their tribal land.
In 1975, 3236 square kilometres of Wave Hill Station was returned to the Gurindji people for residential and cultural purposes.
This song was released in 1993 and is a wonderful example of art and culture.
From little things, big things have grown.
Go creatively, Dee Makeham