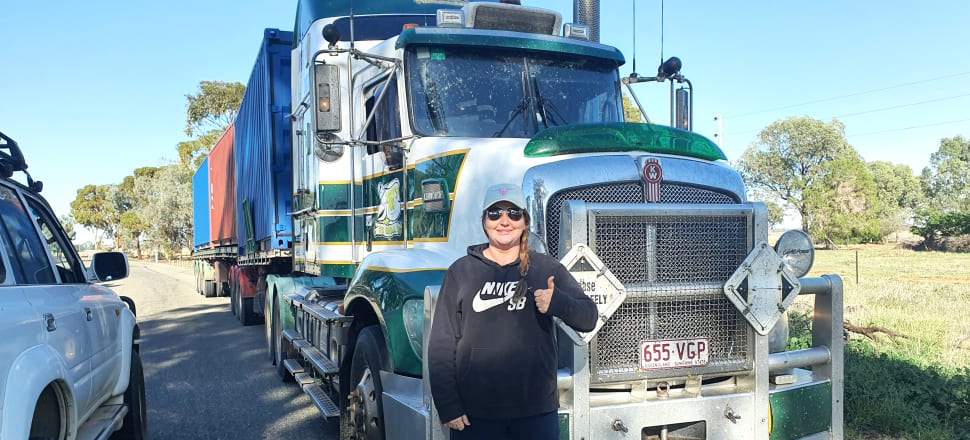 5370537724001
Truck drivers around Finley are waking up to see the gift of food and coffee on their window.
Finley resident Leesa Hajistassi has been delivering home-made bacon and egg toasties, packed lunches and coffee to all who stop for a rest along the Newell Hwy around town.
Although Ms Hajistassi has only been a resident for the last two months, she is quickly leaving her mark in the community.
She moved here to live with her partner Paul Lia who has spent a decade working on his Finley farm and driving trucks.
When she heard how difficult it would be for truck drivers to buy food and shower at various petrol stations along the Newell Hwy, she immediately stepped in to action.
"My other half used to drive interstate and told me of all the problems the COVID-19 closures would have on all the drivers," she said.
"I straight away knew I could do something to help. I started off by offering sandwiches and drove around with my hot kettle for coffee.
"In only a matter of days I've become so busy, getting lots of calls and messages for food and coffee.
"It helps that my front doorstep overlooks the Tongaboo truck stop just outside of Finley so I can quickly jump in the car and head over.
"A lot of truckers sleep there overnight so rather than waking them, I've been the truck stop stalker and have left goodie bags on the truck windows for when they wake up."
Ms Hajistassi said the service of transport the truck drivers provide is so important at this time.
"We rely on them (truck drivers) so heavily right now across the whole country.
"A lot of truckers are telling me they can't find places to eat and a lot of the petrol stations are even closing its truck stop showers.
"With a lot of businesses running on skeleton crews there can be long waits and sometimes even a total business closure when they arrive for their delivery.
"So I've cleaned up our second bathroom and am offering that for drivers to have a shower.
"This has all come out of necessity thanks to my better half telling me the conditions they face.
"Some drivers are polite and don't want to accept it but no one leaves my rest area empty handed," she said with a laugh.
Since starting just last week, Ms Hajistassi has received support from across the nation and is hoping her accessibility during the COVID-19 closures will help more truckers to seek her assistance.
"Everyone has been so good to me about what I'm doing, I didn't need any recognition, the drivers do so much for us and have been so kind, I'm just doing what needs to be done," she said.
"I was actually quite embarrassed when I got a couple of phone calls from around Australia thanking me for what I'm doing.
"Right now people can reach me on my mobile and by messaging me on Facebook and Instagram."
To reach Ms Hajistassi phone 0460 554 595 or visit her social pages at Lia Transport.