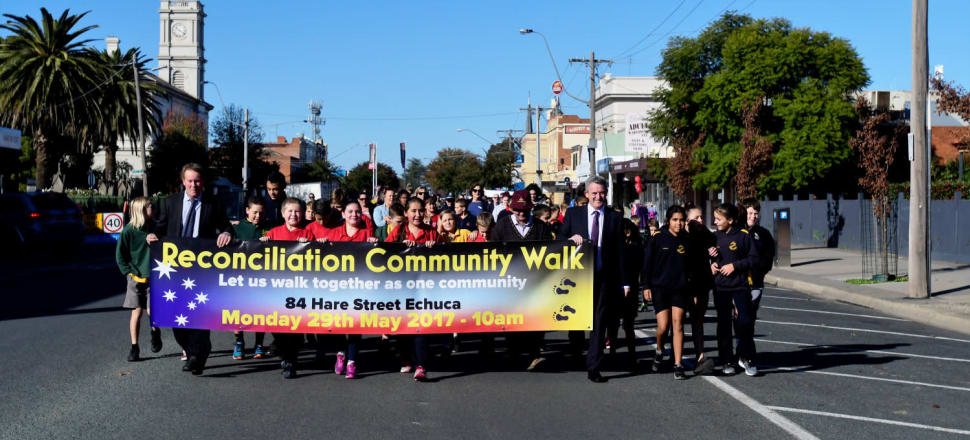 5370537724001
RECONCILIATION Week is a time to acknowledge, understand, recognise and respect and move forward as one community.
This is the key message organised and Baroona Heath Centre manager Keith Hearn is sending out.
■Acknowledge the wealth of cultures we have in our community.
■Understand the cultural differences and similarities.
■Recognise how we are all different.
■Respect each other.
■And above all else, move forward as one whole, accepting community.
The Echuca-Moama community has a rich indigenous culture which will once again be celebrated throughout Reconciliation Week. But this week isn't solely about the culture, it's about everything. And Mr Hearn is determined to ensure no-one is left behind.
''If you cut someone's skin – no matter the colour – there's still blood,'' he said.
''Imagine our community without diversity – we wouldn't have the community we have today without other cultures.
''Reconciliation Week has to be encompassing of everything to get on as one.
''We must never go back to what we had and we must move forward as one.
''The walk is about showing we're equal.''
Mr Hearn could not have put it better if he tried - and he did try.
Imagine walking around our CBD looking for a meal and not finding any Asian, Italian, Vietnamese, Greek, American or Mediterranean restaurants.
Not finding anyone with a different skin colour; or only hearing one language — would that life be as entertaining and enriching as it is today?
While Reconciliation Week has progressed to be inclusive of all cultures, it still holds huge significance to our indigenous.
Running from this Monday, May 27 to June 3, the week encompasses some major milestones in the indigenous Australian's fight for acceptance.
Monday acknowledges the 1967 referendum, where non-indigenous Australians overwhelmingly voted to include indigenous Australians in the census and remove them from the 'Flora and Fauna' category.
And June 3 reflects The Mabo Case, where the land rights of the Meriam people were recognised, providing a catalyst for wider recognition and understanding of the traditional land owners and the implementation of native title.
Almost coinciding with Reconciliation Week is National Sorry Day, when the mistreatment of indigenous Australians — particularly through the Stolen Generation — is commemorated.
Just as Mr Hearn said, Reconciliation Week is a time to acknowledge, understand, recognise, respect, move forward as one community and make every effort not to repeat the wrongdoings of the past.
''I was born in 1968 on the veranda of the Echuca hospital where I was born as a man – not fauna or flora,'' he said.
''My mother grew up in the early 1900s, when this community was a different world.
''She never spoke about being taken away during the Stolen Generation. She was eventually returned but never said anything.
''Aboriginal people used to have to have a certificate to come into town where they would then have to abide by the rules and the rules were not to talk about our culture or mix with each other. So if Aboriginal people wanted to be part of white society they had to leave our black culture behind.''
''It would've been really hard to be a part of the Stolen Generation and fighting off the breakdown of culture — it's why so much of our history has been lost.''
But Mr Hearn feared not all lessons have been learnt.
''I have all these tags because of the colour of my skin. It's a conception we need to get away from,'' he said.
''People beep and yell at us because of the colour of our skin.
''We can only rise above it.''
The Reconciliation Walk will begin on Monday, May 27 at 10am from Njernda Medical Centre in Hare St where everyone is invited to walk through a smoking ceremony and proceed down Echuca's main street before ending at the Aquatic Reserve. A Welcome to Country and flag raising ceremony will be held followed by the announcement of the Campaspe Shire school banner competition winner.