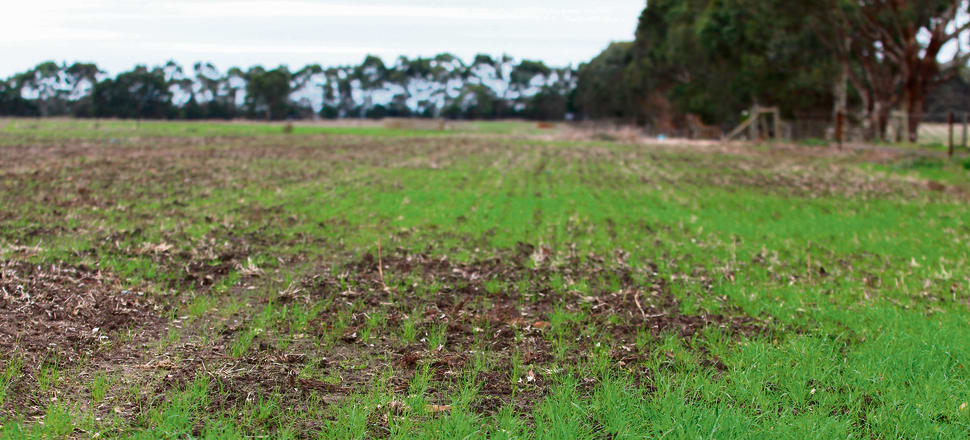 5370537724001
GREEN SHOOTS of annual rye-grass are just peeking through the topsoil at Leighton Hart's dairy farm in western Victoria.
This leaf emergence has been the result of about 40 mm of rain at the start of May, the only decent soaking his farm has received since last spring.
A week later, the second week of May, the farm received about 51 mm, "good rain on top", Mr Hart said.
He welcomed the rain, but pasture growth will be too late to calve cows onto grass.
"We sowed at the end of March, we try and get everything in before Easter," he said.
"It is pretty dry and it only started to come up because of the last rain we had which was close to 40 mm.
"Obviously the seed is only just germinating and we are about six weeks away from grazing these paddocks, we have a lot of ground (like this)."
Mr Hart, wife Karen and children Lachlan, Maggie and Lucas lease a 400 ha farm at Deans Marsh about 27 km inland from the coastal town of Lorne and 34 km east of Colac.
Traditionally, Mr Hart said they would "fluke" showers around or before Easter which prompted the start of sowing. They dry-sowed this year and rain didn't arrive until a few weeks later.
The region is home to a few dairy farms, but land use is predominately sheep, beef and more recently it has become a "lifestyle property" region.
The Hart family milks 550 crossbred cows, calving from May 1 until the end of August, across a milking platform of about 250 ha to 260ha. The business has been pasture based, feeding in a "normal year" 1.8 tonne/cow/lactation of supplements in the bail. This year, because of the dry season, it would be about 2 tonne/cow/lactation.
Up to 85 per cent of the total 400 ha farm has been sown this year, this includes a "top-up" or "complete sow" of all the milking area. This has been necessary due to the long, dry and hot summer, according to Mr Hart.
About 40ha, used as an out-block, has been sown to oats and rye-grass and this would be made into silage in spring.
Mr Hart said the mass-scale pasture renovation across the farm was a big expense and this was in addition to buying-in more feed, something he said was "difficult".
The farm includes about 80 ha of permanent pasture which "has lasted" through the drier period.
"We are probably about six to eight weeks away from a full rotation," Mr Hart said.
"We might get on some of the earlier perennials that have lasted, but we don't want to start too early and run out of grass before spring."
The 51 mm in the second week of May would help pasture establishment with the combination of warmer weather.
"In a week's time, when the new grass is up to two leaves we can put some urea on it to push it along," Mr Hart said.
But until pastures have established for grazing, the herd relies on a diet of bought-in feed.
Freshly-calved cows receive 6.5 kg/day of grain mix, including canola, in the dairy.
On top of this, they are fed wheaten hay, which cost $385 a tonne delivered, and a little homegrown silage. The latter, Mr Hart expects to run out of shortly.
Sourcing bought-in feed during a dry season has been expensive for their farm business.
"It means a high cost of production because we are putting more bought-in feed into the system on an already stretched budget," Mr Hart said. "This is because of our grain is $150 – $180 tonne more expensive (than average years) and bought-in feed has increased by 30 to 40 per cent because you haven't got that grass in the paddock."
Following an autumn break, and promise of follow-up, Mr Hart hoped soil temperatures remained at more than 11°C to promote pasture growth.
"If we get really, really cold, the growth rate of these new plants is going to be slow as well," he said. "It is a bit of a catch-22, we want a bit of rain but obviously some warmer weather in between it. If it gets down to, or close to, 11 (degrees Celsius) or a bit lower, things sort of start to stall. We have been up to 13–14 (degrees Celsius in early May) but it has been dropping away for some parts of the farm with the colder mornings, because we do get some frosts down on the flats."
At the beginning of May, Mr Hart recorded a soil temperature of 12.5 to 13 °C.
"We've had a number of years like this, with the dry conditions, it is starting to repeat itself all too often really," he said.
"It is something we definitely have to look at, in terms of our systems, and find something that works in these conditions."