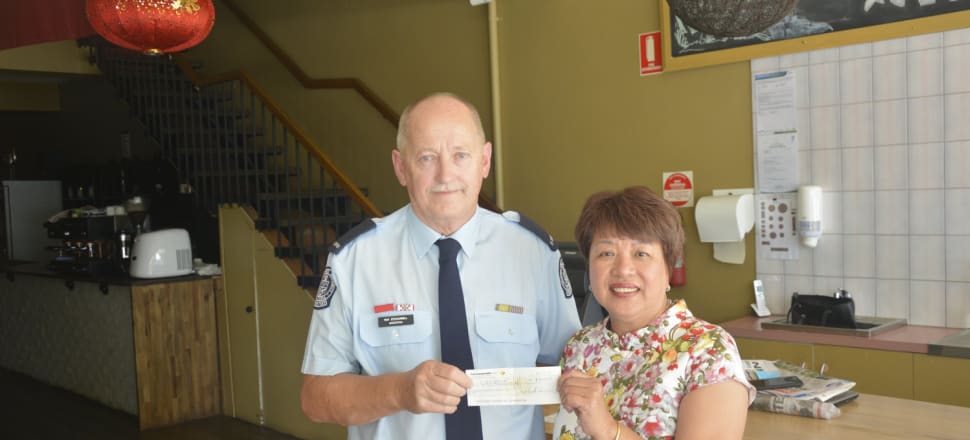 5370537724001
Chinese New Year celebrations at Mooroopna's Yiche restaurant have raised $3000 towards a new Mooroopna CFA patrol vehicle.
Yiche owner Evelyn Anderson presented a $3000 cheque to Mooroopna firefighter and City of Greater Shepparton fire brigade group manager Ray Stockwell at the restaurant on Thursday afternoon.
Ms Anderson said the Chinese New Year celebrations on February 8 always happened at Yiche, but this year was the first time the restaurant had used the occasion as a fundraiser.
"We decided we would do something for our community, and I wanted money to stay in the Shepparton region, rather than go somewhere else," she said.
"I believe the CFA, the ambulance, the police, they do a great job and they're really out there to help the people.
"It felt really fantastic to give to the community; whenever someone's in trouble, everyone in Shepparton seems to help. I'm proud to call Shepparton home."
Ms Anderson said on the night of celebrations, the Bendigo Chinese Association Lion Team performed, while the Yiche kitchen served Asian fusion menu items exclusive to the night.
"On the night, customers paid a little bit extra – it's fantastic to be part of our community and we love to be giving and generous," she said.
Mr Stockwell said he thought the initiative to raise funds for the CFA was "fantastic".
"Three thousand dollars — from the customers and the restaurant itself — is going towards the replacement of a forward patrol vehicle, which we change over every four years," he said.
"New ones cost us around $20 000, and this helps us go towards that."
More stories on CFA:
Garbage truck rolls over and hits power pole in Orrvale
Mooroopna fire station to receive security fence