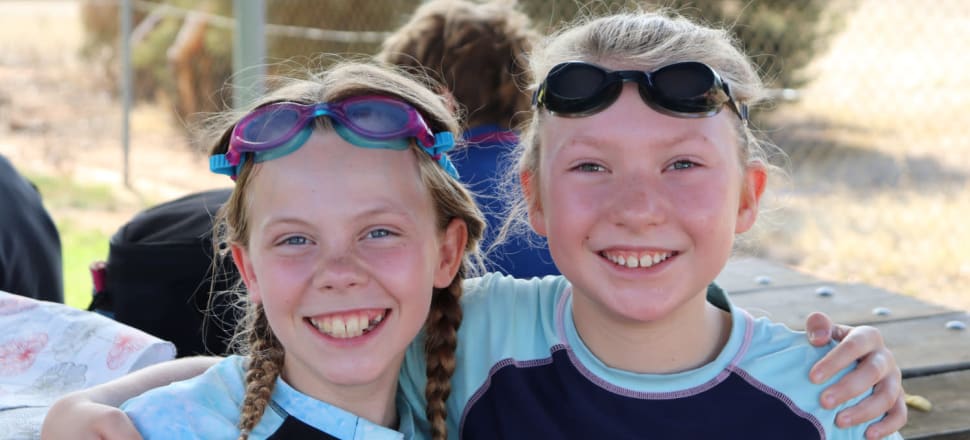 5370537724001
AN INCREDIBLE day was had by Mathoura Public School students at the annual swimming carnival at Mathoura pool earlier this month.
The sun was shining and spirits were high as students nervously lined up waiting for their first events.
The echo of the starter was soon heard throughout the town and water escaped the pool as students dived in, determined to reach the finish first.
This year the school's youngest students joined the carnival for the whole day.
Students were lucky to have a range of novelty events to participate in including the cork scrabble, limbo, dancing and improvised karaoke in the "party pool" with Mr Edgar.
Students also enjoyed parachuting and a drip, drip, drop game with Miss Joson poolside.
A very competitive horse and kickboard race in the big pool with Mrs Eddy was also a highlight.
Again this year, sportsmanship was an overarching theme and students did not disappoint. It was encouraging to see so many students supporting and cheering for each other as they raced.
Congratulations goes to Lucy on receiving the sportsmanship award. She confidently entered several events for the first time in her primary school career and supported and encouraged all students big and small.
Of course, the day wouldn't be complete without the annual teachers-against-students relay.
All students put in their best efforts, swimming ferociously across the pool as their peers cheered them on. Unfortunately, enthusiasm was not enough for them this year.
The teachers were fit and ready the event, claiming back victory after a disappointing defeat in 2019.
Congratulations to Mr Edgar, Miss Joson, Mr McIntyre and Clare on your win.
Sprint practice is now in order in preparation for the athletics carnival in term 2.
Winners
Junior girls' champion: Matilda Eddy.
Junior girls' runner-up: Gemma Van Zutphen.
Junior boys' champion: Jobe Unwin.
Junior boys' runner-up: Joshua O'Sullivan.
11 girls' champion: Jesse Cheep.
11 girls' runners-up: Lily Guthridge and Sienna Toomey.
11 boys' champion: CJ Wilson.
11 boys' runner-up: Luke Moorse.
Senior girls' champion: Shaleah Cooper.
Senior girls' runner-up: Remi Baulch.
Senior boys' champion: Cody Smith.
Senior boys' runner-up: Christopher Taylor.
Congratulations to Remi Baulch, Shaleah Cooper, Phoenix Eagleton, CJ Wilson, Luke Moorse, Jobe Unwin and Matilda Eddy who have qualified to compete in the Deniliquin PSSA Swimming Carnival to be held in Hay on Friday, February 28.