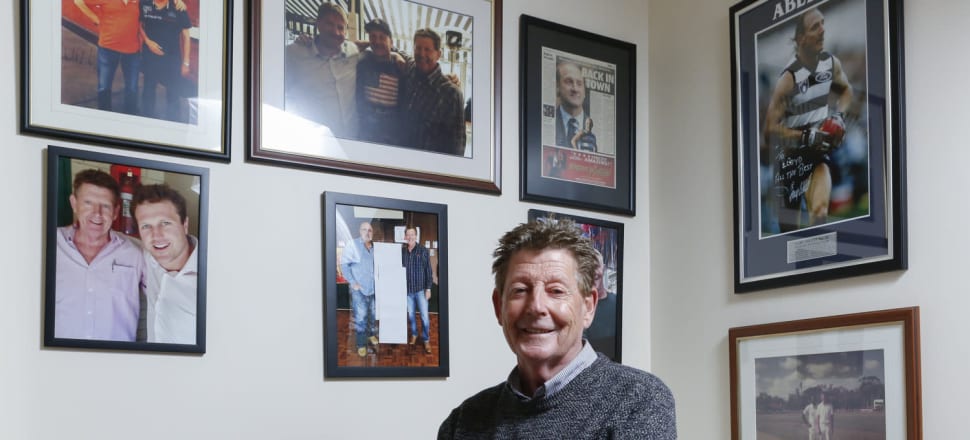 5370537724001
BY HIS own admission, Echuca's Lloyd Rosenow has already achieved more than he could have dreamt of as a kid.
A talented athlete across several different sports he has translated his ability into the world of sports promotion.
And he has put down the success of King Sports Promotions all down to the relationships he has developed.
Rosenow has access to some of the biggest names in the Australian sporting landscape including James Brayshaw and Gary Ablett Snr.
But he doesn't see those people as clients, he sees them as friends.
"I'm lucky enough to have built a number of great relationships over the years," Rosenow said.
"Originally, I just wanted to get into sport promotion as a hobby, but it quickly blew up with some of the people I knew.
"Soon enough, I had pubs and clubs from across Australia trying to get in contact with me.
"I've always said that you should treat people how you want to be treated. And that has helped me to maintain these relationships with a fantastic group of people."
While Rosenow has now been in the business for more than two decades, he quickly realised he was dealing with people who were no different to the average person.
Rosenow simply says they excel in different areas of life and sometimes it can be their demise.
"Unfortunately, in the last 10 years people are looking to knock around the tall poppy syndrome which is sad," he said.
"Sam Newman for example – I know how much work he does for underprivileged kids and charities.
"The entire industry has gone back a little over the past couple of years. And when these guys do speak, they do cost a little bit of money.
"If you want something of quality you've got to pay for it – whether it's a car or a house.
"They are entertaining you at the highest level. They love the opportunity to get out, it's an outlet for them.
"Sometimes they just can't get enough of sitting around and having a drink with the locals.
"It's because it gives them the opportunity to be normal because they aren't in front of the TV cameras.
"They are no different to you or me."
Through his work, Rosenow has also been able to collect countless pieces of memorabilia throughout the years.
But he admits it is hard to choose a favourite.
"I have several different items which I do hold closely to my heart," he explained.
"I have an AC/DC guitar signed by the band, a boxing glove signed by Muhammad Ali and Footscray jumper signed by the coach and best on ground from their 1954 premiership.
"It does get to point where you think you've got too much, but you just keep going.
"It's a passion I try and share with other people by selling items at sportsman's nights."
While Rosenow continues to excel away from the field, there was once a time when it would strike fear into opposition sides in football and cricket.
Whether it was as a player, coach or administrator it felt like success followed Rosenow like a bad smell.
As a footballer, he won several premierships playing for a range of different clubs, while also playing a key role in helping teams move from the bottom to the top of the pile.
"Helping a club turn around their status is something that I've always enjoyed," Rosenow said.
"I always felt like I've thrived in a challenging environment.
"But success only came when I was surrounded by outstanding people."
Although there would be many people who argue, Rosenow's greatest individual success came during the summer months.
Throughout his cricketing career, Rosenow played in countless representative sides.
And to this day, he says playing against the great West Indies side was his biggest challenge.
"I was also fortunate to play against New Zealand and Pakistan," he said.
"I got to make friends with four or five of the West Indian players, most notably the late Malcolm Marshall.
"He is probably the best fast bowler that I have played against. All of them were all down to earth, genuine people.
"I opened the batting against Joel Garner and Marshall. I probably lost half a kilo waiting for them to come into bowl."
Rosenow faced the feared West Indian pace barrage while representing a Victorian Country XI during a tour match at Echuca's Victoria Park in 1984.
"They were lightning quick," Rosenow said.
"When Malcolm was going to throw one at my head, he would let me know.
"It didn't change how I was feeling though."
Garner and Marshall weren't the only bowlers who tried to take off Rosenow's head either.
A clash with Australian Test quick Jeff Thomson still sends shivers down his spine to this day.
"Jeff Thomson is one of the craziest bowlers I ever came across," he said.
"He was frightening, and Malcolm was controlled.
"With Jeff they would come from every angle, and when he got it right with a short ball it would sit you on your backside.
"One day in Shepparton he got me in the perfect spot and gave me a mouthful. But he picked me up by the hand.
"That happened after the first delivery where he bowled a wide one to me and for some silly reason, I put my hands out to signal a wide.
"I learnt my lesson very quickly."
Lloyd Rosenow's life has always been one in the fast lane and he wouldn't have it any other way.
More sport news
Echuca Cricket Club coaching structure finalised
Bendigo Pioneers prepare to return to training