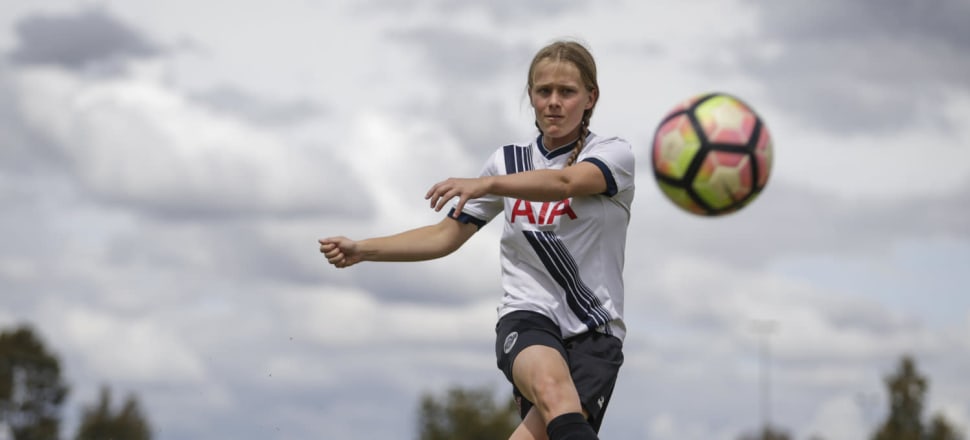 5370537724001
ECHUCA soccer player Paige Pinson knows all about frustrating the opposition.
As a defender, her job is doing everything she can to stop attackers from putting the ball in the back of the net.
But this year, she has seen the roles reversed.
She has found her toughest opponent yet in COVID-19.
Pinson now knows how it feels when she makes a last-ditch challenge inside the 18-yard box.
It's simply frustrating.
A move to National Premier League club Box Hill United was meant to be the step which took Pinson a step closer to her dream.
But the pandemic saw the season halted before she was even able to get started.
"It was disappointing because I was looking forward to furthering my development in the senior set-up at United," she said.
"I was signed as a senior player earlier in the year which was really exciting.
"We only played three practice games and I thought we were building towards something special as a team."
Despite the move to the foreign environment of a new club, Pinson was able to settle in easily after following coach Jorge Leon across from South Melbourne.
"Leon has been fantastic for my development and I couldn't knock back the opportunity to keep working with him," she said.
Following her unveiling as a Box Hill player, Pinson told the club's website: "I thought it was time for a change. Jorge is a great coach.
"He helped me develop so much through the U/19s and got me playing seniors by the end at South Melbourne.
"He's offered me a senior spot here. He knows what I am like, and he makes me work harder."
Pinson enjoyed a breakout season with South in 2019 after making the move from the Moama Echuca Border Raiders.
After originally being signed as an under 19s player, she would go on to make 13 appearances in the senior team.
Those matches saw her line up alongside players including Matildas all-time leading goal scorer Lisa De Vanna and NPL golden boot winner Melina Ayres.
"I don't have a bad word to say about South Melbourne," Pinson said.
"I had a great experience during my time with the club and learnt so much in a short amount of time.
"To play with one of my heroes Lisa is an unreal experience and something I'll never forget. You can learn so much by just watching how much a professional applies themselves in training."
But when Pinson did first arrive Lakeside Stadium, she admitted it felt like she was out of her depth.
"I had a lot of catching up to do compared to the other girls," she said.
"But my coaches made sure I wasn't being left behind and I thought I was able to adjust well to the environment.
"South put a lot more of a demand on winning compared to the Border Raiders – and that's nothing against my junior club.
"South is one of the biggest clubs in the country and they want to be winning trophies.
"I found out quickly the competition is a lot stronger and I'm glad I pushed through what was a tough start."
As she passed through the junior ranks at the Border Raiders, Pinson was predominantly used as a full-back – either on the left or right.
But after making the move to Melbourne, she often found herself in the centre of defence.
"I think having more versatility will help me go further in my career," she said.
"Centre-back is a completely different position to full-back because there is obviously a stronger emphasis on holding your position and stopping the opposition attackers.
"When I'm playing out wide my first job is to defend but at the same time, the coaches want you to get forward and provide chances for the forwards.
"There were times I would change positions in a game, and I would have to change my mindset.
"That was a learning curve and something I'm still working on."
With competitive matches and training sessions on hold, Pinson has spent a large part of 2020 focusing on her university studies.
If a professional sporting career doesn't work out, she hopes to be a school teacher.
"Unfortunately, COVID has had an affect on my studies as well because I haven't been able to do any of my placements," Pinson said.
"A lot of our classes have been moved online like everyone else, so it has been a challenging year.
"I've got 18 months left to go and I'm looking forward to graduating."
During the first lockdown earlier this year, Pinson returned to Echuca where she trained within the comfort of her own home.
And while she hasn't returned to the twin towns this time around, her goals do remain the same.
"Dad was really helpful when I came home and I really appreciate what he did for me," Pinson recalled.
"I've been doing a lot of running and I've started skipping as well to try and mix the exercises up.
"Putting muscle on is one of the biggest challenges I have because it's something I've always struggled to do. My coaches have told me they want me to put more size on so I'm doing everything I can.
"I'm not sure when we will be able to train together as a team again but I am really looking forward to it."
"It has got to a point where I miss doing sprints and everyone being grumpy about it," she joked.
"I just want to be back in a team environment."
Despite the short-term future on the resumption of sport remaining unclear, Pinson's long-term ambitions are as strong as ever.
"I want to be a professional," she said.
"It would be great if I got the opportunity to play in the W-League or even travel overseas.
"The best part is knowing that the pathways do exist, and they are strong.
"Now I just have to put my head down and work hard to make it happen."
More Behind the Play stories