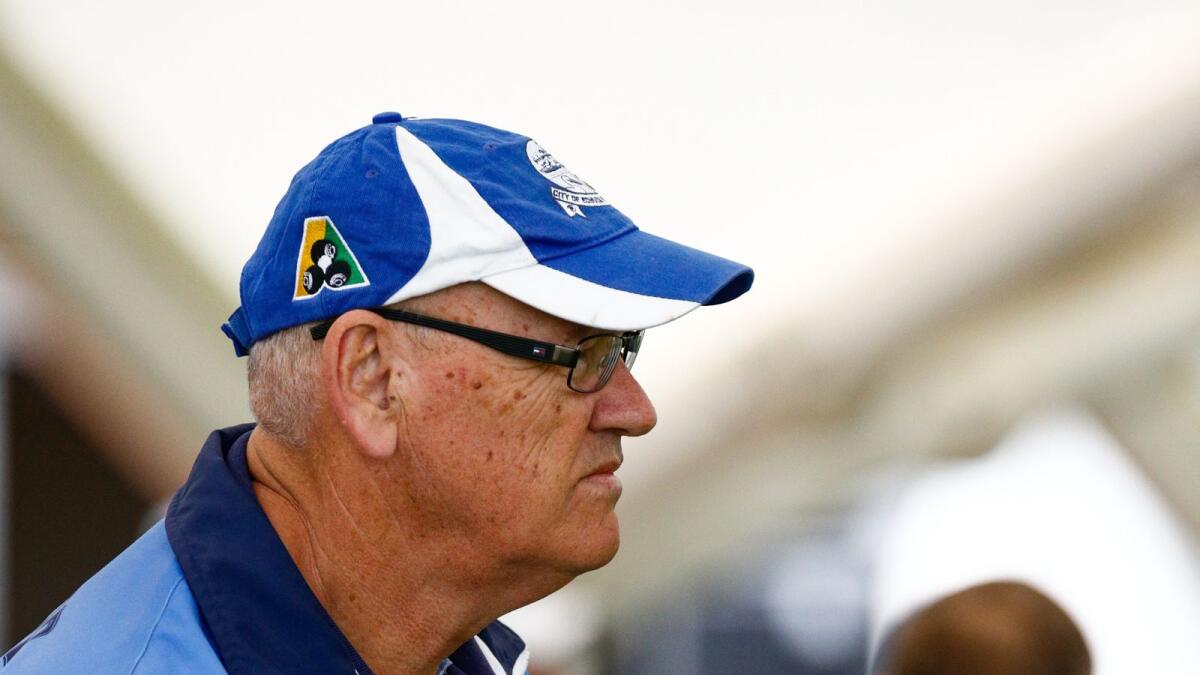 Mathoura's unlucky run of near-misses came to an end against Moama in a Friday night fixture for the fifth round of Campaspe division one bowls action.
Ranked fifth of the seven teams in the Bendigo Campaspe Goldfields Bowls Region division one competition, Mathoura finished with a 61-49 (14-2) win, with skip Rodney Werner dominating Moama's Neville Varcoe and David Hicks collecting a narrow win against Graeme Arthur Hinsley.
Moama, which is ranked second, had lost only the one game, to top-of-the-ladder side Echuca, prior to the weekend.
Moama remains in second position, but its loss to Mathoura has tightened the middle of the table considerably.
George Thornley was the only Moama skip to walk away with a win, taking an 18-13 victory against highly rated Mathoura skipper Mick Humphreys.
Prior to the weekend's win Mathoura had been winless, having lost by four to Tongala (despite winning two rinks), by five shots to Echuca and by six to Deniliquin.
Thornley said he was not surprised by the competitive nature of the fifth-ranked Mathoura.
"They are a pretty strong team.
"On my rink we got away to an early lead, 14-2 after eight ends, but slowed up late," he said.
Thornley, bowling with Tony Hawley, Laurie Campbell and Michael Linehan, won 18-13.
But the 23-20 win of Mathoura's Hicks against Hinsley and then Werner's 25-11 whitewash of Varcoe put Mathoura in the winner's circle.
"They have only lost by a handful of shots in all their games," Thornley said.
"They will win plenty more," he said.
Thornley, who has played at both premier and division one level, is yet to lose as a skip in his three rounds with the Campaspe division one competition.
Sitting on top of the ladder, Echuca didn't have things all its own way, a 19-all draw between Echuca's Dennis Compton and Peter Holzer from Rochester a highlight.
Echuca eventually got the result, 63-53 (13-3), and remains more than 20 points clear undefeated on top of the division one table.
Ian Page was the man chiefly responsible for Echuca remaining unbeaten, winning 24-13 with Matthew Brighton, John Dinsdale and Steve Cunnington in support. He and his team beat Kelvin Wiffen's rink comfortably, making up for the one-shot defeat of Echuca's James Ferrier to Rochestrer skip Richard Feuk.
Page has only lost one of his five matches this season, to Tongala's Bradley Tinning in the fourth round of the season.
He dominated Moama skip Leslie Saunderson in the opening round, then had wins against Werner from Mathoura and Rich River's Keith Hewitt.
In the remaining game, third-ranked Deniliquin was a 63-53 (14-2) winner against Rich River, which remains second from the bottom.
Simon Chisholm's 25-7 win against Peter Nesbitt and the 23-19 victory of Shane Laing against Rich River's Hewitt were the catalysts for the victory.
Rich River's Jason McLay got back on the winner's board after a promising opening to the season against Feuk from Rochester. He then lost successive rinks, only to emerge from Saturday's contest with Deniliquin's Brian Klemnitz with a 27-15 win.
Mathoura has a chance to climb further up the ladder this weekend when it tackles bottom-of-the-ladder side Rochester.
Moama and Deniliquin will play off in the match of the round, second versus third, while Tongala and Rich River meet in the final match of the division one Campaspe competition.
In Bendigo Premier division one bowls, the Moama club's bye on the weekend allowed second-ranked Kangaroo Flat to close to within one point.
Moama leads the nine-team competition with 66 points, with Kangaroo Flat on 65 and Eaglehawk in third on 62 points.
Moama is unbeaten with four wins, a draw and a bye after six rounds.
Kangaroo Flat beat third-ranked Eaglehawk 78-65 on the weekend.
It is a top-of-the-ladder versus bottom-of-the-ladder match for Moama next weekend, when it tackles ninth-ranked Bendigo.