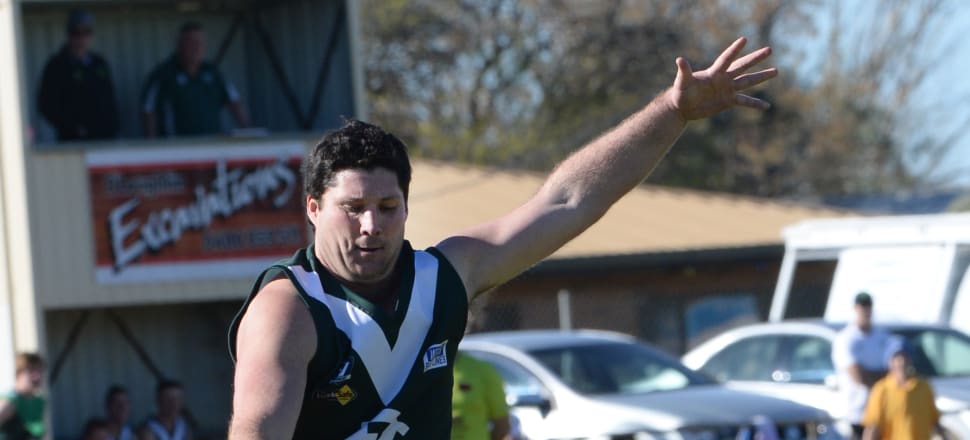 5370537724001
Rennie defeated Mathoura by 55 points in Saturday's elimination final at Katamatite.
Senior SCORES
Rennie 2.0 10.2 13.6 17.8 110
Mathoura 1.3 3.3 5.7 8.7 55
Goals: Rennie: C. Strawhorn 8, D. Rhodes 4, C. Sudholz 2, K. Willett 2, C. Ednie.
Mathoura: J. McGowan 2, J. Flynn 2, B. Duggan-Hulands, S. McHale, S. Day, D. Russell.
Best: Rennie: C. Strawhorn, A. Brooks, D. Bruce, C. Sudholz, C. Ednie, L. Ednie.
Mathoura: A. Farrell, S. Day, J. Ellery, E. Handy, J. Hughes, S. McHale.
The first term was a high tackling, low inside 50, high intensity game as both sides struggled to break from the contest.
Rennie were on the board early with a Rhodes snap followed by a Strawhorn goal, but Mathoura had more inside 50's but could only manage 1 goal as Rennie led by 4.
The game opened up in term 2 and the Hopper forward line was extremely efficient with 8 goals from 14 inside 50's.
Strawhorn 4 and Rhodes 2 were the forward stars complementing the on-ball work of Welsh, Fountain and C Ednie, with Brooks marking or smashing away any balls that came in his area.
Rennie had extended their lead to 41 at the long break.
The Timbercutters were up and about early in term 3 but the Hoppers hung fat, as Bruce took control on his wing, Sudholz provided a target at half forward and also kicked a mongrel finger breaker goal from just inside 50.
The Strawhorn show rolled on with 2 more goals and Rennie led by 47.
The last term was a slog as Willett snagged a couple as O'Dwyer and L Ednie held the back half together. Overall a solid effort by the Hoppers, with Strawhorn kicking 8 and Rhodes 4.
Best players were Strawhorn, Brooks, Fountain and Welsh.
The Hoppers have this weekend off and will play the loser of Waaia and Katamatite at Mathoura on Saturday, August 31.
Onto this week and the under 14's play Deni Rovers at 9.30am at Waaia on Saturday.
On Sunday at Picola the under 17's play Katunga at 10.35am and the Reserves play Waaia at 12.30pm.
Saturday @ Waaia
Football
9.30am U14s Rennie V Deni Rovers.
Netball
10am U15s Rennie V Deni Rovers.
11.10am U13s Rennie V Deni Rovers.
Sunday @ Picola
Football
10.35am U17s Rennie V Katunga.
12.30pm Reserves Rennie V Waaia.
Netball
12.30pm B Grade Rennie V Waaia.
Saturday, August 31 @ Mathoura
2.05pm Seniors Rennie V TBA.