Bohollow Wildlife Shelter hopping for joy with joey rescues
Deb Fowler has been a licensed wildlife rescuer for the past 25 years and is caring for 17 kangaroos as a part of her involvement with Bohollow Wildlife Shelter.
"I'm glad I'm not in South Australia — in South Australia, you aren't allowed to re-release kangaroos — I don't know how many I would have after doing it for 25 years," Deb said.
Deb is an on-call wildlife first responder, responding to calls from as far away as Kerang and from as close as down the road in Kotupna.
She has orphaned and injured kangaroos on her property, as well as a host of other wildlife including one flying fox.
"Most people just call us directly when they find an animal, but we do get calls from vets, and sometimes other people just pass out our number and say 'call Deb or Kirsty from Bohollow' — Kirsty does the birds, and I do the fluffy ones."
Many calls that Deb responds to are along highways and in out-of-town areas such as bushland.
"They usually come in because of road trauma, or their mum has been caught in a fence, but every so often they're found by themselves," Deb said.
"Mum might have tossed them because she was being chased by a dog or a fox or people.
"I've had one person tell me that their kids wanted to see a kangaroo joey, so they chased the mother in his four-wheel drive until she threw the joey, and then the kids got to see it: so sometimes it's not an accident, sometimes it's just sheer stupidity."
Adult eastern grey kangaroos can reach heights of 2 m and with bigger kangaroos come bigger problems during rescues.
"We do a lot of rescues of big kangaroos, and we've done a few on properties in Echuca," Deb said.
"The biggest we've estimated we've rescued was 95 kg.
"We do a lot of big ones, but sadly often once it's been long enough for someone to see them and call us, they have to be euthanised — there's a lot of putting them down, and that's why the joeys are such a pleasure, because they can go back home."
When it comes to the general public interacting with injured or dead kangaroos, safety is crucial.
"The most important thing is that if people see a dead kangaroo, they should check if there's a joey in the pouch: if they're not confident to take it out — which is absolutely fine, because you do have to be careful how you do it — they should call us immediately, and have really good directions to where they are.
"The one thing that I find is that people will say 'oh it's about 3 km down on Wharparilla Rd on the left hand side, it's getting up a little bit but not too much' — I've had kangaroos with two broken legs that have travelled more than a kilometre or two, just to get away from danger.
"They will still move on stumps, it's horrible.
"What I need from people is for them to tie a marker where they last saw the kangaroo.
"Just leave me something — if it's a plastic bag, I promise I will remove it — but just tie something to let us know where you last saw it.
"We can spend two, three hours looking for a kangaroo that was never there, because we never saw it.
"(Kangaroo rescue is) really hard, because you have to prioritise.
"People will call you for the orphans and joeys or to go rescue, but you have to feed.
"Sometimes people will ring you up and you'll have to say 'I will be there, I promise, but it might be two hours' because I have to feed the ones in care.
"To me, once you bring the joeys into care, you've made a promise to them — you promise them 'I'm going to look after you the very best I can' and for them to miss out on a feed is not good care.
"The more people that could transport an animal to us, or meet us halfway, or take them to a vet, the better, but it depends on the size and the safety.
"People think they're friendly, and they're just not."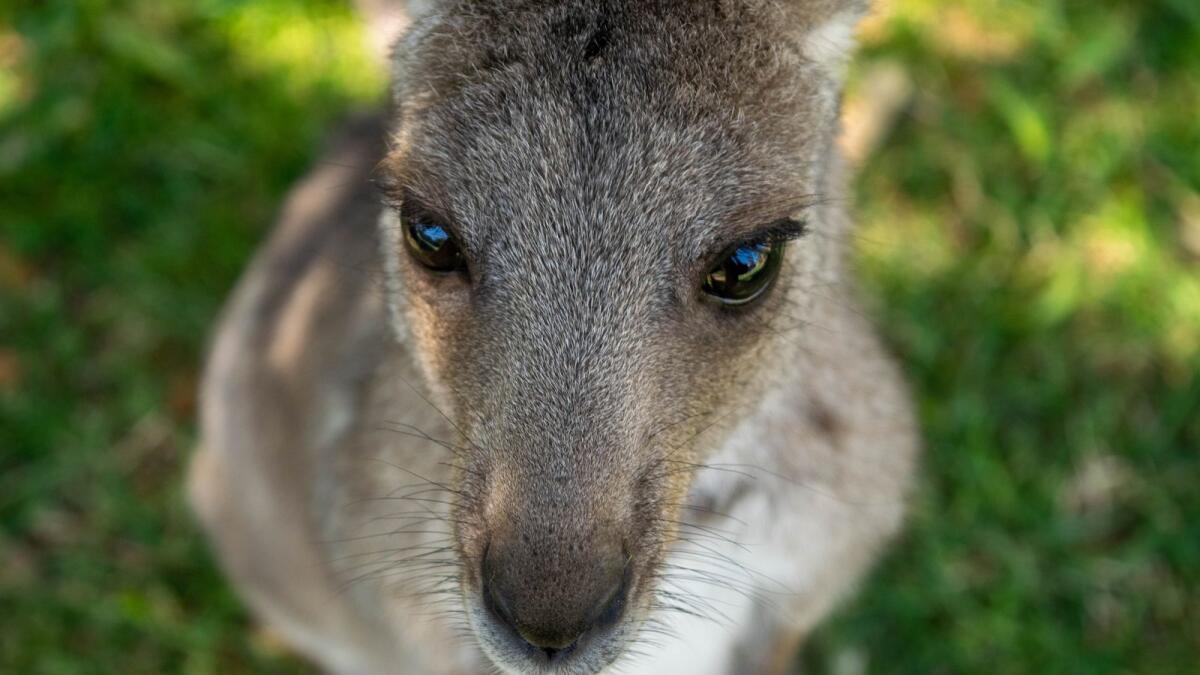 The joeys, in particular, bring Deb the most joy, as they are released into the wild after growing up.
Gordon, one of the orphans, was a mere 300 g when he arrived at the shelter, and now hops around freely as a growing and thriving joey.
Another joey in care arrived about a week ago, weighing in at just 380 g, and now is 440 g.
"If I see progress, I will exhaust every option to care for them," Deb said.
"(The joeys) all look similar, but they are all different.
"They are all eastern grey (kangaroos), we don't get red kangaroos around here, but occasionally I will get someone drop in a red because they've found it on the road, but I tend to send them back to Mildura or Swan Hill, or find a New South Welsh person around Deniliquin, because that's where their home is.
"They're just interrupted for a while here while they learn to be kangaroos, but at some point they'll grow up and go back home."