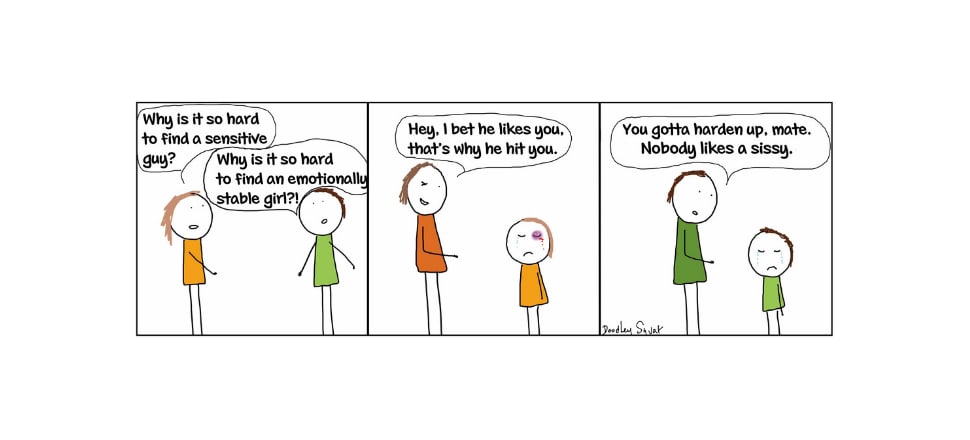 5370537724001
VIOLENCE against women is unavoidable.
It will occur no matter what we try to do.
History has proved it; the modern era has simply confirmed it.
Would you:
A: Strongly disagree
B: Disagree
C: Agree
D: Strongly agree
Amazingly, with all I know and have seen as a professional journalist, I walked straight to the disagree corner of the room in which I was privileged last weekend to be attending the inaugural Walkley Foundation's Our Watch Fellowship retreat.
But as a sceptic I was not alone. I was followed into my rose-coloured corner by about half of the 13 other participants.
I took those simple steps thinking violence against women (VAW) was, in fact, largely preventable and one day in our utopian future we will achieve gender equality, leading to a balance of power between the sexes.
Yes, we have come a long way from the Stone Age when cavemen, we are led to believe by movies, comics, cartoons and comedians, regularly beat 'their women'' over the head with clubs.
However, in today's society, abuse comes in many other forms aside from the time-honoured bashing – such as overwhelming emotional; psychological, financial and spiritual control.
Whatever your poison it's putting women down, it's gas lighting, it's stopping them from seeing their family and/or friends, cutting off their finances and/or denying them their spiritual or religious beliefs and practices.
And of course let's not forget those nightmares from the headlines – killing them.
It's happening everywhere but almost always in private raising the next question: Is that person you know really the person of their public persona?
What's even harder to fathom is we all know this is wrong, yet at best we ignore it and at worst continue to condone it – tacitly or blatantly.
You just have to look at this year's season of Married At First Sight with which Channel Nine has decommissioned its moral compass, sacrificing its audience, numbing it with a seemingly contrived saga promoting abusive behaviour between couples (both men and women) on national television with no apparent consideration for its far-reaching consequences.
For Nine – and most of its broadcast coalition – it is all about the ratings.
And that's where we – you and me – do come into it.
The ratings wouldn't be so high if we weren't watching this garbage.
Why do we – yes, you and me again – have such a thirst for trash TV that not only condones domestic violence but enthusiastically pushes gender-based stereotypes and encourages disrespect towards men and women – peer relations that emphasise aggression.
All of which are drivers of gendered violence against women.
Now I know there will be some of you out there complaining 'well, what about the men?'
It's easy to say 'women are emotionally abusive too' and yes some can be, I've seen it myself, but it's not comparable to the violence women experience from men.
Domestic violence is about making someone fear for their physical and sexual safety.
The violence we are likely to experience is far more likely to result in injury and death.
So often a gruesome; terrifying hurrah, that one last demonstration of power over a partner or former partner before the lights go out.
Men, on the other hand, are most likely to experience violence from a stranger, in a public place and at the hands of another male, in a one-off occurrence.
Women are much more likely to experience violence from a man known to them.
In private; stretching over days; weeks, months and even years.
Can you imagine how much this is costing us?
Well I don't have to guess because I checked it,
And according to a study by Price Waterhouse Cooper VAW costs the Australian economy almost $22 billion a year.
To put this in context that is level pegging the same amount chronic pain costs us every year.
All violence committed (regardless of whether you're male or female) is about power and control.
And this is why I still think it is possible to rid this national crisis from society.
We need to even the playing field. From when babies are born, to when they go to school, when they join a sports club and when they start work.
You start by calling out violence against women when you see it.
You challenge gender stereotypes by promoting women's independence and decision making.
You strengthen positive, equal and respectful relationships.
If we all play our part, we can change the story. The future is yet to be written.
If you are experiencing domestic violence, call 1800 RESPECT 1800 737 732.